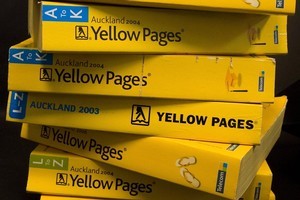 Two of New Zealand's biggest corporates have started an Auckland neighbourhood turf war to secure their shares of local advertising.
Suburban advertising markets have long been the preserve of community newspapers and media, although Yellow Pages has offered localised print directories in some areas.
Now the big corporates are digging deeper into community advertising. Yellow Pages Group - which is emerging from the collapse of its corporate structure - yesterday revealed details of its YellowLocal web service.
It is being publicised in the run-up to the start of the Localist by New Zealand Post - the state-owned enterprise which is trying to emerge from the collapse of its postal revenue.
But Yellow Pages digital director Peter Crowe dismissed a suggestion the initiative was a hurried reaction. Yellow had been planning the move for more than a year, he said.
YellowLocal splits Auckland into 205 web pages for different suburbs with categories for events, shopping, real estate, restaurants and bars, health, sports and things to do.
NZ Post's Localist service, which will have printed guides and a website, divides Auckland into five sectors and then allows users to zero in.
Localist head of marketing Sheryl Nichols said that Yellow Pages' tilt at increasing its local reach indicated NZ Post was focused on a valid market.
She said the NZ Post venture was focused on links with social media and additional content but it was not clear if Yellow would do the same.