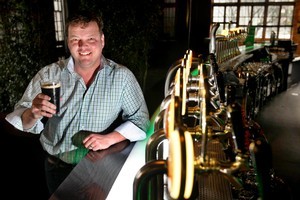 A well-known Auckland hospitality operator has sold his stake in the central city Sale St bar and restaurant to the majority shareholder, DB Breweries.
Luke Dallow said his company, Curdall Investments, had owned 40 per cent of Sale St, with the brewing firm holding the remaining shares.
The deal was unconditional, he said, and the bar would become wholly owned by DB today.
Dallow set up the bar behind Victoria Park Market with the brewing firm in 2008.
"It has been a wonderful success and shown the industry not to be afraid and give things a go," he said.
Sale St has been a venue for high-profile fashion and music events, as well as a regular after-hours haunt for office workers.
Dallow said he sold his stake to concentrate on his new bar in Federal St, Red Hummingbird, which will open in mid-July.
Asked why he decided to sell before the Rugby World Cup, he said it was a good business decision, despite the fact that the bar was likely "to pump" during the tournament later this year.
"It was always in my business plan."
Dallow said he was looking forward to starting work on new projects and focusing more on his existing businesses. He owns a majority stake in Ponsonby's Chapel Bar & Bistro and is a partner in Radio Ponsonby, a community broadcaster.
Dallow, who also runs a hospitality consulting business, is known for his creative promotions at his bars.
In 2009 Chapel Bar & Bistro patrons who bought a glass of champagne got the chance to win a $4500 diamond.
Champagne drinkers received a pair of tweezers and were told to choose a stone out of a martini glass filled with 1000 fake diamonds - and three real ones.
An onsite diamond tester confirmed whether they had pulled out a real stone.