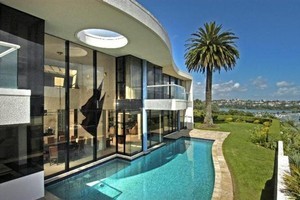 The house vacated by Westpac boss George Frazis is available for tenants at $3400 a week, making it New Zealand's most expensive rental property on a long-term basis.
Alistair Helm of realestate.co.nz identified the country's 10 most expensive properties for rent and found the top three were in Paritai Drive.
Top of the list was 92 Paritai Drive at the quiet end of the dress-circle street with sweeping waterfront views, just a short drive from the CBD - and not far from the palatial $37 million Hotchin house.
The vast curvy white ultra-modern house, owned by millionaire property investor James Kirkpatrick, also appeared this week on the country's top 10 houses for sale at $13 million. Kirkpatrick and his socialite wife Gilda live nearby.
Mr Frazis, the country's top-paid executive, making $5.6 million annually, has left the place where he once held lavish dinner parties, complete with staff.
Reports have emerged of a disagreement over the tenancy, for which he said he paid $3400 a week.
Barfoot & Thompson says Auckland's average weekly rents fell by $13 a week from March to April to reach $421.
Westpac's Australian bosses sent here to run the local arm of the empire, are renowned for their flamboyant property tastes.
A much-praised minimalist Belmont/Takapuna home named as House of the Year was sold to former Westpac chief Brad Cooper and his partner, Joanne Walker, who bought Robin and Erica Congreve's designer place known locally as the "bunker", for its tough appearance, sturdy square style and dark grey exterior walls, said to be a prototype of Te Papa.
Mr Helm found Auckland dominated the rental market.Only one Wellington house featured - a six-bedroom executive home at Broadmeadows.
Mr Helm also noticed how Paritai Drive dominated but said people were also preparing for the World Cup.
"I noticed a few properties appearing which are targeted to the Rugby World Cup, one seeking $7000 a week," he said.
"There are a lot of holiday places too within the top-priced rentals which start at an eye-popping $3000 per night for a Parnell house available through Bookabach.
"I therefore decided to restrict my search to properties which were being let on long-term tenancies," Mr Helm said.
London properties are being rented for £25,000 ($52,000) a week.
Mr Helm cited a six-bedroom Wellington Court house in top area Knightsbridge for that sum.
"The 10,000sq ft [929sq m] lateral penthouse apartment has a 150ft [45m] frontage, directly overlooking The Serpentine ... adjacent to the Royal Horse Guards Cavalry," says London agents Strutt & Parker.
Mr Helm also found houses in Sydney at A$12,500 ($16,950) a week.