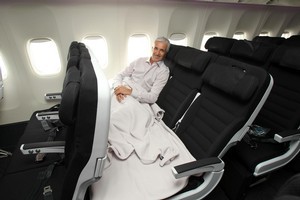 Air New Zealand's 'cuddle class' lie-down economy class seats have bagged a top award from leading global travel magazine and information publishers, Conde Nast, beating out competing new First Class cabin fit-outs in the process.
Officially known as Skycouch Economy seats, they won the Aviation category in Conde Nast Traveller's 2011 Innovation and Design Awards.
The Kiwi designed Economy Skycouch was selected ahead of new First Class A380 cabin designs entered by both Lufthansa and Singapore Airlines, the national carrier said in a statement today.
"While airlines have made incremental improvements to their premium cabins over the years, no other airline has put this level of research and development effort into improving the Economy flying experience," said deputy chief executive Norm Thompson.
The Skycouch allows two people to share three economy seats, and create a bed for two that hugely improves the experience of an economy class long haul flight.
An expert panel developed a short list from all entries, and the winners were chosen by a readers' vote. The magazine commented that Air New Zealand is "... smoothing the way with its inventive approach to economy seating."
The Skycouch is available the first 10 outboard rows of the Economy cabin in its new Boeing 777-300ER aircraft operating between Auckland and London, via Los Angeles.