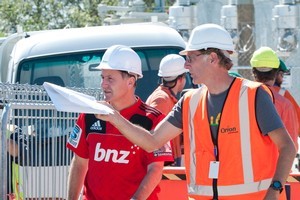 The chief executive of Canterbury electricity lines company Orion Networks has been announced as the permanent chief executive of the Canterbury Earthquake Recovery Authority.
Roger Sutton will start in the role in mid-June, taking over from deputy State Services commissioner John Ombler, who has been serving as the temporary chief executive of CERA.
State Services commissioner Iain Rennie said Mr Sutton "has the leadership, strategic, operational, relationship management, influencing and communication skills required for this position".
"Mr Sutton has the ability to lead and manage recovery operations initially and to develop a long-term recovery strategy in consultation with stakeholders.
"He has a high level of credibility across the Canterbury community and has developed and maintained effective relationships with stakeholders in central and local government and with community and business sector leaders," Mr Rennie said.
Canterbury Earthquake Recovery Minister Gerry Brownlee welcomed the announcement.
He said Mr Sutton was clearly the best choice for the role and after his outstanding leadership of Orion would give the community confidence.
"Roger has been an outstanding leader as Orion Networks' chief executive, and he has a very keen appreciation of the extent of damage from the earthquakes and need for recovery here in the city," Mr Brownlee said.
"I'm sure Roger's appointment will speed the recovery process.
"I think all Cantabrians, and particularly the residents of Christchurch city, can be confident we have found a chief executive who is more than up to the job."
Christchurch Mayor Bob Parker said the appointment was great news for Canterbury.
"It is so reassuring for our city and region that Roger who understands the local issues so well, has been appointed to this key role. I am looking forward to working closely with him."
Mr Parker also thanked Mr Sutton for his contribution to the city as Orion chief executive.
The agency is charged with guiding the earthquake recovery by tying together central and local Government, along with community and business groups and Ngai Tahu.
Mr Sutton became a familiar face following the February 22 earthquake, often fronting press conferences to update the public on Orion's efforts to fix the city's damaged power network.
He will be in charge of a staff of about 50 people and will be on a salary of about $500,000.
He said the new role meant a significant drop in pay but wanted the challenge that it provided.
"I love this city and want to try to do the best for it."
Mr Sutton said the main priorities would be dealing with earthquake-affected land and infrastructure, including sewerage repair and demolition of unstable buildings in the CBD.
Some hard decisions would have to be made without the support of everyone in the community, he said.
Orion this afternoon announced Mr Sutton's resignation.
"Roger's leadership in restoring Christchurch's vital power infrastructure and communicating the issues and progress following the September and February earthquakes has been obvious to Cantabrians.
"However, his contribution over 20 years with Orion in various engineering and management roles, particularly in working with the staff to prepare the network for such an event, has been just as important. The board and management want to take this opportunity to thank Roger for the huge contribution he has made to Orion over the last eight years as CEO."
Mr Sutton has been the chief executive of Orion for eight years. He has a Bachelor of Engineering (Mechanical) from the University of Canterbury.
Geoff Vazey, a former Ports of Auckland chief executive and current Orion director, will take over from Mr Sutton until a permanent appointment is made.
- Herald Online staff