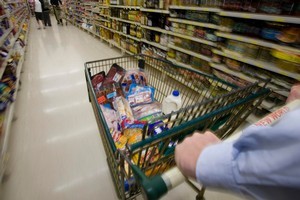 Electronic card transactions indicate a pick-up in retail activity is under way, even if it is largely confined to things with which people fuel themselves or their cars.
Retail transactions paid for on credit or debit cards - which typically represent about 60 per cent of retail spending - rose 1.5 per cent last month on top of a 1.6 per cent increase in March.
But it is still largely a "necessities" story, said Goldman Sachs economist Philip Borkin.
Spending on consumables (food and drink) and on fuel over the past three months is up 9.3 per cent on the same period last year, excluding GST which increased in the interval.
By contrast spending on other retail items is up just 0.6 per cent on a year ago, although admittedly that is a modest improvement from recent months, Borkin said.
"In times of tight household budgets, high prices for necessities leave less money for everything else.
Nevertheless, we are detecting a slight improvement in the underlying trend for consumer spending, off pretty low levels."
Recovery from here would depend on the housing market, he said. "If your biggest asset has stopped falling in value - and we are starting to see signs of that, particularly in Auckland - you are going to feel a little more comfortable about your financial situation and it may mean you at least slow the pace of paying down debt.
"We don't expect the housing market to race away. There are a lot of affordability issues out there. But at least we may be seeing signs that house prices have stopped falling, which is the first thing that needs to happen."
The largest increases last month were in spending on consumables (up 2.3 per cent seasonally adjusted), hospitality (up 2.4 per cent) and vehicles (up 2.2 per cent). Spending on fuel rose 1 per cent, the smallest monthly increase since August last year.
ASB economist Christina Leung said that compared with a rise of nearly 3 per cent in petrol prices last month. "The sharp increase in petrol prices in recent months has led many households to change their driving habits," she said.