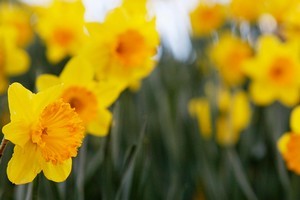 Daffodils may provide a valuable source of income for South Island farmers, if a joint project between a Welsh drug manufacturer and the Canterbury Development Corporation comes off.
Alzeim Ltd, based in southern Wales, extracts a substance from daffodil bulbs used to treat Alzheimer's sufferers. The company has spent seven years identifying the ideal growing conditions to increase levels of the compound galantamine in the flowers.
The corporation has large-scale crops in Wales ready for commercialisation but needs a second growing season to ensure supply. Alzeim believes New Zealand is the perfect Southern Hemisphere location and approached the Canterbury Development Corporation (CDC) for help.
Jim Grennell, sector leader for agribusiness, said CDC was helping the UK company evaluate the opportunity. Alzeim was also looking at setting up a processing plant. "A lot will depend on the viability of production."
Kevin Stephens, CEO of Alzeim, said he was confident the New Zealand crop would work.
The first results would be known this spring.
A total of 35 million people in the world suffer from Alzheimer's - the most common form of dementia - and that is expected to double in the next 20 years. Until now there had been problems with supply of galantamine, previously available only from wildflowers or by making it artificially.
"Effectively, what it means is there is a limited supply of galantamine, therefore people are on the other synthetic drugs," Stephens said. "Drug synthesis is not cheap. The costs of the treatment to Alzheimer's patients and governments in health budgets should drop."
Galantamine is effectively a toxin that the daffodil uses to protect itself. In Alzheimer's patients it slows the breakdown of a neurotransmitter that carries messages between brain cells. Stephens compared it with the "furring up" of lime scale inside an electric jug. Galantamine stops or slows down the process, but it does not remove the furring up that is already there.
Alzeim was founded in 2004 when biology professor Trevor Walker had a call from a colleague whose 58-year-old wife had been diagnosed with Alzheimer's. He used his knowledge of plants to experiment over the next three years, and persuaded a dedicated group of supporters to back him.
"The first galantamine we produced was done in Professor Walker's conservatory," Stephens said.
The company was now commercialising the crop, and was "advancing on all fronts".
Cliff Abraham, director of Otago University's Brain Health and Repair Research Centre, said galantamine was one of only four drugs approved by the US Food and Drug Administration for the treatment of Alzheimer's.
The available medicines provided transient relief of the symptoms but there was nothing that had any significant effect on the progression of the disease, he said. "However, anything that improves cognition even for a while makes quality of life better."
New Zealand's drug buying agency Pharmac only approved one Alzheimer's drug, and it did not contain galantamine.
Federated Farmers Mid Canterbury president Michael Morrow said there were already some large-scale bulb growers in the region.
Canterbury was a popular area for out-of-season crop supplies. "We have a lot of arable ground and good-quality growers who are prepared to try something different."