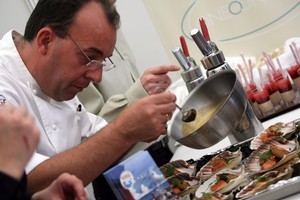 An Auckland food extravaganza is being brought forward a month to coincide with the final week of the Rugby World Cup.
Taste of Auckland will become Taste of New Zealand and be pitched not only at local foodies but tens of thousands of rugby fans who will be in the city then.
The event, billed as the "ultimate festival of cuisine", will be held at Victoria Park between October 19 and October 22. The cup final will be played in Auckland on Sunday, October 23.
Festival organiser Rob Eliott said 17,000 people visited the Auckland festival last year, when it was held in November.
There will be 70 chefs from leading New Zealand restaurants, plus 120 food and drink companies and a full lineup of entertainers and musicians. There could be up to 50,000 fans in the city in the leadup to the final.
Eliott said many of the fans would be familiar with Taste festivals which were also held in Australia, England and South Africa.
The demand for corporate hospitality was expected to be even stronger than last year when 800 tickets for $350-a-head packages were sold. General admission tickets started at $25 and VIP packages at $95.
"We'll be providing visitors with a stunning culinary experience that celebrates all of the best flavours of New Zealand in a single, vibrant village," Eliott said.
Taste of New Zealand has several private sponsors but has no official involvement or sponsorship from public bodies. "We hope as a national showcase event it will receive some official funding or support but [there's] none to date."