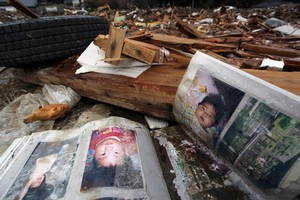 The boss of the Earthquake Commission admits he was nervous about securing New Zealand's re-insurance after Japan's disastrous quake and tsunami.
Chief executive Ian Simpson said the commission's re-insurance policies are renewed annually on June 1.
He says the agency spends two weeks a year going round their 50 re-insurers - renegotiating.
Ian Simpson said they got on the plane after the Japanese earthquake with all those horrible pictures in their minds, and there was a real fear that might take all the capacity out of the reinsurance market.
However, he said the main ones have stuck with EQC and there are no problems with risk exposure.
Today the EQC is turning its attention to full assessments of homes having largely completed the rapid assessment phase following the February 22 earthquake.
More than 182,000 rapid assessments have been done since the quake, although there is still follow up work to be done where residents have raised concerns about their inspection.
EQC is also working on visiting homeowners who had made claims before February 22 who had not yet been visited.
Mr Simpson said nearly 4000 full assessments have been completed.
"Full assessments are a thorough and time consuming exercise with assessors spending from between one hour and five hours in a house. Their purpose is to work out how much will be paid following a claim for earthquake damage," he said.
"EQC has around 185 full assessment teams working in Christchurch and within each assessment team we have at least one trade qualified builder."
"The rapid assessment process has identified 12,120 properties as likely to have damage above the $100,000 EQC cap. Of these 12,120 properties, just over 5,200 have had their insurance status confirmed," Mr Simpson said. EQC pays out up to $100,000 (+GST) for house repairs and $20,000 (+GST) for contents. The rest is paid for by the homeowners' private insurers.
One of the priorities for EQC is to identify those homes in most need of emergency repairs and heating with the winter months approaching, Mr Simpson said.
Around 4000 heating units have been ordered, installed or repaired so far.
"These include heat pumps and different varieties of solid fuel burners. Orders are now being taken at a rate of more than 1000 per week. The heat pumps are being delivered about two weeks after the order, while solid fuel burners take a bit longer," Mr Simpson said.
"Homes where the primary heat source has been lost through earthquake damage are having heating equipment replaced or repaired and other work carried out to ensure weather tightness."
EQC has received a total of 287,000 claims for the September and February earthquakes, 103,000 for February alone, with just under $823 million has been paid out on claims.
Meanwhile in the CBD, Zone 4 North - between Bealey Avenue, Salisbury St, Montreal St and Park Terrace - has opened to the public today. Zone 7A - encompassing Chester Street East, Madras Street, Barbadoes Street and Oxford Terrace - will also open to residents and business owners today and to the public from 8am tomorrow.
- additional reporting by NEWSTALK ZB