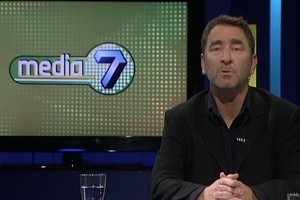 The Government rejected a request to renew funding for the non-commercial public broadcasting channel TVNZ7 because it says that would have sucked money out of NZ On Air and other projects.
Broadcasting Minister Jonathan Coleman announced this week that the Government will not renew funding for TVNZ7, TVNZ's only non-commercial public service channel.
It will run until June next year, and then be canned.
Yesterday TVNZ chief executive Rick Ellis revealed that he had asked last year for funding to keep TVNZ7 afloat, but the Government rejected it because it had no new money.
"We were advised a short time ago that proposal was not accepted," Mr Ellis said.
"I guess Government looked at it as it's not about one year of funding, but it's about maybe 10 or more years of funding, and that's a very big number ...
we weren't surprised at the decision. It is a disappointment, but, at the end of the day, it's the Government's prerogative and we just get on with it."
The channel costs about $15 million a year to run, and was originally set up to bring TVNZ into the digital age and provide a platform for local content.
Dr Coleman said the Government would continue to fund local content through the contestable NZ On Air model, which last year had $81 million for television content.
He said that if the Government had stumped up extra money for TVNZ7, some would have come at the expense of the NZ On Air pot.
Responding to accusations from Labour and the Greens, he said the Government had had "absolutely no discussion" about selling TVNZ.
Labour's broadcasting spokeswoman, Clare Curran, said the Government was turning its back on public broadcasting at a time when it was giving hand-outs to the private sector.
She was referring to the deferred payment offer the Government made to radio networks in 2009, which amounted to a $43 million reprieve for MediaWorks, which owns TV3, so it could renew its radio broadcasting licences over the next 20 years.
Dr Coleman dismissed the criticism as two entirely different issues.
Ms Curran asked how New Zealanders would receive public service content.
"At a time when investment is required in quality digital content, and as we move into a world of fast broadband National is walking away from any commitment it once had to public broadcasting."
The Screen Directors Guild of New Zealand said the end of TVNZ7 undermined the Government's stated commitment to public broadcasting.
"New Zealand will be the only country in the OECD without a channel committed to public broadcasting," said president Peter Bell. "Viewers are assembling content in an increasingly diverse platform environment, but without a local channel with a loyalty to public broadcasting aims, there is a huge risk that we may not see this kind of programming commissioned at all."
- additional reporting by NZPA