Authors offer tips to ambitious executives keen on gaining promotion.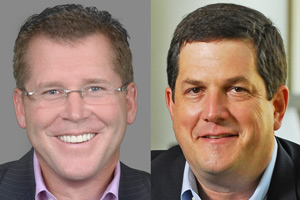 Stephen Miles (left) and Nathan Bennett say game theory can help executives make the most of opportunities. Photos / Supplied
High-flying corporate player Barbara Chapman returns to ASB Bank this month as its new chief executive.
Chapman has also been appointed non-executive director of the group's New Zealand life insurance business, ASB Group Life (Sovereign), where she was managing director until 2006.
The coup should be no surprise for a businesswoman who has played "the career game" expertly for years. Chapman had a high profile as managing director of Sovereign, then moved to Australia to work for the parent company, Commonwealth Bank of Australia, as group executive, HR and group services.
Her presence at the Sydney head office put her in front of the decision-makers. She was an obvious candidate when they were looking to replace Charles Pink at ASB.
While Chapman was a big fish in a small pond when she was at Sovereign, her transition to Australia proved she could operate with ease in a bigger pond, too.
In their book, Your Career Game, Georgia Institute of Technology professor Nathan Bennett and Heidrick & Struggles vice-chairman Stephen Miles demonstrate how game theory can help ambitious executives take charge of their careers.
They say one way to think about job opportunities is to ask: is it better to be a big fish in a small pond or a small fish in a big pond? "What is good about a small pond is that you can often 'get into' a career," says Miles, from Atlanta. "Then you can use that as a global stepping stone to transfer to the London or New York office, and then you are on the big stage.
"Over time, if you and your family choose, you can then come back to the small pond and be a truly global executive who is in huge demand."
We all play games in our daily lives, the authors say. Imagine, for example, leaving work and hearing about traffic on your primary route. You begin to plot a strategy using alternative roads. Other drivers are plotting their own strategies. If you anticipate and avoid their choices your commute home is a breeze, but should you select the same alternative you'll be no better off than drivers stuck on the primary route.
"Here begins the game of trying to anticipate what your competitors are thinking and their simultaneous efforts to understand what you are thinking, and each of your efforts to 'out-think' the other," says Miles.
Game theory can be a useful way of understanding decision-making in situations with interdependent players, the authors say.
Your Career Game also focuses on "career agility", which refers to a person's ability to make the most of a variety of competencies. Great career game players are often modest and minimise their own role in their success. As the Roman philosopher Seneca observed: "Luck is what happens when preparation meets opportunity." Agile executives understand how to navigate the intersection of preparedness and opportunity, say the authors.
Miles and Bennett interviewed Muhtar Kent about how he made it to the big job of CEO and president of Coca-Cola.
He left the organisation as a regional managing director and went to head a bottling company with strong Coca-Cola relationships.
Kent achieved great things during his six years at the bottling company and took it public on the London Stock Exchange. This stood him in good stead with Coca-Cola decision-makers.
One of the themes of the book is knowing who the players are in your career game. A candidate's manager can be an important player in their game, say the authors. "Managers have an option about the way they express support for a candidate's interest in promotional opportunities with the company.
"Employees earn the commitment of their manager by making it clear the main reason they have come to work is to help that manager succeed.
"It is human nature to want to reciprocate. It is by also being focused on their career that you get them to be interested in yours."
But while game theory provides a useful framework to better understand your career, your own strategy is personal.
"Your goals, your talents, your predilection to risk, your game history to date and characteristics of your fellow players are unique to your situation."
Playing the game
Questions to keep in mind when considering each move in your career:
* How instrumental is this move in terms of my career objective?
* Is the risk/reward associated with this move acceptable to me? If not, what might I do to make it a more attractive trade-off?
* Is the timing right for this move?
* How will other players interpret and respond to this move?
* Who can help me be successful in executing this move?
* How will this move help me tell a better story about my capabilities down the road?
* What are the opportunity costs of this move and are they acceptable?
* Is this move reversible if I learn something suggesting that it is a mistake?
* Do I understand the next sequence of moves - my own and those of others?
- Source - Your Career Game
Gill South is an Auckland freelance writer