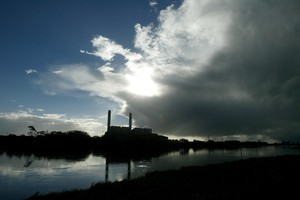 Electricity industry executives have revealed they exercise 'self-restraint' rather than exploit temporary opportunities to charge very high prices on the wholesale electricity spot market, as occurred during last Saturday's maintenance outage on the national grid.
The outage, which was signalled to the electricity market well in advance, saw prices leap to between $19,000 and $20,000 per megawatt hour between 10 a.m. and about 5 p.m., a period when the only generator with spare capacity to the affected part of the upper North Island was Genesis Energy.
The action appears to be a high-stakes bid by Genesis to force other generators to take seriously its determination to stop running the ageing Huntly power station at a loss during periods of electricity shortage.
The 1,000 megawatt station acts as a national backstop for security of supply, but Genesis chief executive Albert Brantley has accused the industry of "immaturity" because of its unwillingness to manage the risk of high spot prices by seeking hedge contracts through Genesis.
The action has prompted three formal complaints to the Electricity Authority from MightyRiverPower, Meridian Energy and Meridian subsidiary Powershop, all alleging the period constituted an "undesirable trading situation" and should be unwound.
Both Meridian and MRP speculated that smaller electricity retailers may be forced to dump customers or could fail if the prices charged on Saturday were allowed to stand.
MRP says the brief period of super prices could wipe $25 million off the company's full-year profit, while Meridian's general manager of markets and production, Neal Barclay, said Genesis's behaviour was at odds with the way other generators acted when similarly advantageous situations occurred.
"The sort of transmission constraints which were taken advantage of by Genesis are a common occurrence," Barclay said in his submission to the EA. "Other generators in this position have not acted in the same way."
"The likely reason for self-restraint is the risk that such behaviour could jeopardise the market as a whole," he said. "If the Electricity Authority does not act in this situation, it may set a $20,000MWh benchmark as the new norm for such situations."
However, Genesis's general manager of corporate affairs, Malcolm Alexander, said he was unaware of any "standard market practice" relating to pricing during transmission outages.
Genesis had clearly signalled ahead of time where it expected prices to go, but had been unable to sell any hedge contracts at lower prices that would have protected market players from exposure to the historically high wholesale market spot prices that emerged on Saturday.
However, MRP accuses Genesis in its EA complaint of acting to ensure that the transmission constraint produced a worst-case scenario by manipulating production at its Tokaanu hydro plant, thereby "exacerbating the constraint".
"It would appear that Genesis' conduct was carried out in order to take advantage of the constraint to the material disadvantage of other market participants as it has caused unprecedented prices into the Auckland region," MRP says. "This is clearly an undesirable practice that affect many market participants."
Ari Sargent, chief executive at Powershop was blunter, describing Genesis's actions as a "blatant, extreme exercise of transient market power".
"Consumer confidence in the electricity industry and the credibility of the Authority as industry regulator will be undermined if abuse of market power is seen to be tolerated," Sargent said.
MRP's general manager, operations, Fraser Whineray, concedes the company saw the potential for trouble last Saturday and sought hedge cover from Genesis on Friday, but at prices it did not regard as acceptable and which have been blanked out on the EA's website.
"Within one hour of declining the hedges the market forecast was showing that the high prices were alleviated (to under $160MWh) and this remained the case until the constraint bound (occurred) in real time. The alleviation in day-ahead prices caused us not to reconsider hedge cover."
The EA is due to consider the issue tomorrow and is understood to be considering a separate investigation into the incident, outside the undesirable trading situation regime and similar to an inquiry it conducted before Christmas when spot prices also spiked unexpectedly high.
A four-year study for the Commerce Commission concluded in 2009 that although electricity generators were from time to time able to exploit situations where they held market power, they were doing so legitimately in their commercial best interest.
Meanwhile, Meridian has announced that its chief executive, Tim Lusk, is to step down later this year after three years at the helm. Lusk had been on the Meridian board when he took the role, replacing Keith Turner.