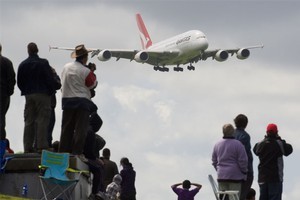 Qantas is cutting capacity growth, retiring aircraft early and shedding managers in response to natural disasters in key destinations and rising fuel costs that it says poses its biggest threat since the global financial crisis, Australia's national carrier said Wednesday.
Recent disasters here, in Japan and Australia are expected to cost Qantas $140 million in the six months to the end of June, the airline said.
Qantas subsidiary JetStar is set to axe up to three domestic flights daily in and out of Christchurch and one daily Melbourne to Christchurch service.
The impact in 2012 is not yet known, it said.
That comes on top of an additional $25 million hit that Qantas expects in the same period from the temporary grounding of its A380 fleet after a midair engine explosion over Indonesia in November. The airline said the incident cost it $55 million in the first half of the year.
"The significant and sustained increases in the price of fuel is the most serious challenge Qantas has faced since the global financial crisis," Qantas CEO Alan Joyce said in a statement, adding that the airline's fuel costs for six months to June 30 will be $2 billion.
Other airlines, including Delta and American Airlines, have been raising fares and trimming services to Japan to try to deal with rising costs. For Qantas, the problems are compounded by recent disasters in both of the markets where it operates domestic services - Australia and New Zealand.
An earthquake in February devastated Christchurch, while Australia's tourist destination state of Queensland was hit by a massive cyclone in February and suffered its worst flooding in decades.
Qantas has also been hurt by this month's earthquake and tsunami that decimated parts of Japan.
"There has never been a time when the world faced so many natural disasters, all of which have come at a significant financial cost to the Qantas Group," Joyce said.
"We need to act decisively to respond to rising fuel costs and natural disasters ... to ensure the ongoing sustainability of our business."
Qantas said it would reduce costs and increase revenue by cutting domestic capacity growth in the second half of 2011 to 8 per cent from 14 per cent and cutting international capacity growth to 7 percent from 10 per cent.
Qantas and its budget stablemate Jetstar will suspend four weekly flights from Australia to Japan from April to August, and downsize the planes Qantas flies from Sydney to Japan from Boeing 747s to Airbus 330s.
Qantas will also send two B767 planes into early retirement, and reduce management-level staff and leave costs.
The company has already increased fares twice since February on domestic and international flights to offset extra fuel costs.
- AP