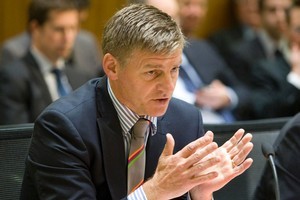 The government is seriously rethinking the size and scope of the public service as it looks to reduce its squeeze on cash and return to surpluses in the next five years.
Finance Minister Bill English told the Institute of Public Administration New Zealand in Wellington the government has to cut back its role in the nation's economy and focus on what services it has to provide at the expense of less necessary spending.
Prime Minister John Key has already flagged spending cuts at the higher end of the Working for Families package in a bid to help contain the costs of last month's earthquake.
"This is not a time we can afford to indulge in a whole lot of 'nice-to-haves', even though, for sections of the population, they feel the loss of those services or funding streams," English said. "The government will continue to make decisions about what to stop increasing, scale back, or stop doing altogether."
New Zealand dodged a double-dip recession last year by a narrow margin, and last month's 6.3 magnitude earthquake has been called a "game-changer," forcing the government to cut all new spending initiatives, excluding health, education and justice, this year.
The International Monetary Fund is picking growth of just 1 per cent this calendar year, and the global body warned English last week to cut back on 'transfers' to the middle-classes.
English told the conference, the public sector "will be under constant pressure to deliver better services for little or no extra money," and the choke on new spending will effectively be permanent.
New Zealand's fiscal deficit is forecast to reach 9 per cent of gross domestic product as the government takes on more debt to drive Christchurch's rebuild, though it was already facing a structural deficit equal to some 5 per cent of the economy.
The government is looking at ways to integrate more agencies, and English said there will be more consolidation over the next two or three years.
That comes after the National Library and Archives New Zealand were wrapped into the Department of Internal Affairs, and the Food Safety Authority, Ministry of Fisheries and Ministry of Agriculture and Forestry were merged.
"Too many agencies in the wrong place risks diseconomies of scale, transactions costs, duplication of roles and back-office functions, and in some cases reduces the cohesion and quality of frontline services," he said. "The direction is likely to lead to fewer government agencies over time."
English said the public service has been too clunky in the past, and increasing contestability of its services will stoke its level of responsiveness and innovation to dealing with the public.
That will go hand-in-hand with the delivery of more services by non-government organisations, the private sector and iwi groups.
Back-office functions will be targeted for more cost cutting, with fewer people expected to take on more projects, he said. This comes after the government identified savings of $115 million over the next five years on joint procurement projects.