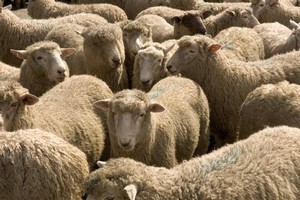 Wool growers will hear within two weeks details of an alternative plan to a failed co-operative capital raising, says PGG Wrightson managing director George Gould.
Wool Partners Co-operative last month failed to attract enough support to continue, although achieving backing equivalent to 30 per cent of the strong wool clip.
Had the offer been successful, the funds would have been used to buy certain assets and businesses from Wool Partners International (WPI), which itself would then revert to being fully owned by PGG Wrightson.
However, PGG Wrightson said it had agreed to support the development of an alternative proposal. PGG Wrightson was a vertically integrated broker, marketer and exporter of wool.
"This is a territory we're very familiar with and happy to be, but our position with regard to the grower ownership is that we will not stand in the way if that's what growers actually want," Gould said.
Gould has become chairman at WPI, replacing Theresa Gattung, while chief executive Iain Abercrombie had also stepped down.
Mark Shadbolt and Jeff Grant would represent growers on the WPI board and be the main drivers of the alternative plan.
There was strong grower influence on the board, Gould said. "That was deliberate because what's known as the plan B, or the Wool Partners Co-operative alternative capital raising, is being considered now."
An announcement within two weeks would give some details about the alternative plan, Gould said.
"In any case it'll need to be done within six months."
The alternative plan could involve elements of a co-operative.
"There'll need to be a commitment of wool and there'll need to be a commitment to contribute capital over time," Gould said. "They're the common denominators, but exactly how it's structured, the quantum that's being sought and all of those details, is still to be finalised."
Beef and Lamb New Zealand's mid-season update last month said wool prices were predicted to be up 40 per cent for the year ending June and the highest since 1989/90.
Raw wool export receipts were forecast to hit $799.8 million, compared to $552.6 million the previous year.
That was a result of inventories being run down in wool buying countries in Europe and North America, to reduce debt, it said.
Gould said that most of the people who said they would commit under the first plan had said they still wanted to play a part in the future of the industry,
"Whether it's [higher prices] helped or hindered I'm not sure but either way there's still a strong interest."
ON SHEEP'S BACK
* Wool prices are forecast to be up 40 per cent
* They are the highest in two decades
* Exports almost $800m, up $250m on last year