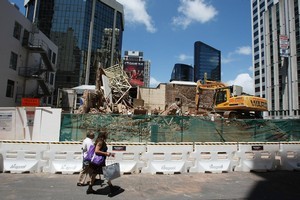 The site of an historic Auckland hotel, knocked down because it was dangerous, will not be developed until the owners pay the city council's $200,000 demolition bill.
The 124-year-old Palace Hotel in Victoria St was being developed into a brothel in time for the Rugby World Cup, but when it began to show cracks and the walls began to move last November, Auckland Mayor Len Brown ordered it to be demolished.
In a report earlier this month the Auckland Council blamed the building's joint owners, Michael and John Chow, for the demolition, saying contractors removed some of the material supporting the basement walls and that led to movement and cracking.
The council also said it was taking legal advice and might prosecute the Chow Group.
Council lawyer Wendy Brandon said today the council was still waiting on legal advice on a prosecution.
The $200,000 demolition bill had yet to be paid, and until it was the council would not issue any consents for the site development
The council could not force the Chow Group to develop the site, even though it was an ugly demolition site in the middle of town, said Ms Brandon.
Michael Chow was not available for comment today.
He and his brother bought the building in 2008 for $3.3 million.
- NZPA