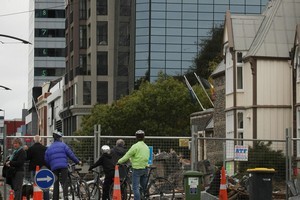 Desperate business owners unable to access their quake-damaged buildings in Christchurch's central business district are planning more protests today, despite pleas from the Civil Defence to be patient.
At least 100 people marched through town yesterday demanding access to their buildings and information from Civil Defence, with some breaking through the cordoned-off CBD. They were removed by police, but no arrests were made.
The frustrated workers say they have had little information from Civil Defence since the 6.3-magnitude quake struck exactly a month ago.
Business owner Joe Arts, who owns a printing company on High Street, said he registered with the business recovery group four weeks ago but had heard nothing from Civil Defence.
"The Civil Defence cellphones are unanswered and have flat batteries most of the time. They don't return calls or emails," he told Radio New Zealand.
Mr Arts said he was frustrated he couldn't enter the CBD with a structural engineer to assess his business.
"The only way we can get any information out is from journalists taking photos of our building or contractors saying the building has been damaged," he said.
Kishor Singh owns two properties in the CBD - one on High Street and the other on Cashel Street, and has around 19 tenants. He says it has now been a month but he's had no access and has received no information from Civil Defence about his buildings.
"All the property and building owners, they're quite determined and they have decided that we are going to relentlessly continue protesting until we are given access to our properties and businesses," he told Newstalk ZB.
Kishor Singh said business owners should be able to assess their buildings with their own engineers. He said the rear part of his High Street building has been demolished but he was never told.
But Civil Defence national controller John Hamilton told Radio New Zealand today a process was in place and were working as quickly as possible
"Simply, the area is dangerous...We've had enough of people being injured and hurt by the earthquake itself and I think I have at least a moral obligation to ensure the safety of the rest of the people."
Civil Defence was making contact with business owners but did not have a list of tenants in each building, he said.
"The message for all business owners is to be patient. I understand the frustrations and we are working to do all we can do to try and get people through because we want the economy of Christchurch to recover."
Mr Hamilton is working with the Canterbury Business Recovery group to allow business owners limited and controlled access to the quake-damaged red zone from Thursday.
Yesterday, Civil Defence Minister John Carter said safety was key and people would not be allowed into any unsafe buildings.
"Business owners need to exercise patience and consider their need to access their businesses, bearing in mind that in doing so without authorisation they may not only endanger their own lives, but also the lives of others.
"It is foolish to breach the cordon around the red zone. People died behind that cordon."
Civil Defence was working tirelessly to get the area into a safe state, Mr Carter said.
"It is serious that people think they can storm or breach the cordon. They put lives at risk doing that and they will be prosecuted," he said.
Acting controller Steve Brazier yesterday said 3500 people had registered with the business recovery group.
About 350 people had already been granted access and about 500 people would be by the end of this week, he said.
A moratorium on demolishing buildings in the CBD had been extended until Friday.
Christchurch businessman Kurt Langer, who has a photography studio in Cashel Mall, said protesters felt out of the loop and were concerned their buildings would be demolished without any consultation.
"We are all going bankrupt. We are about to lose everything and they will not tell us anything. It's a complete police state," he told NZPA yesterday.
Mr Langer said a structural engineer had told him his building could be made safe enough to enter.
"I could retrieve at least half a million dollars of irreplaceable goods within half an hour," he said.
Police say they will arrest any business owner who deliberately breaches a cordon in the CBD.
Superintendent Andy McGregor said no arrests were made in yesterday's protest but police understand another protest is planned today.
"If they did that, if they took such an approach we would actually take a lot more affirmative action and arrests would be made," he says.
- NZPA, NEWSTALK ZB