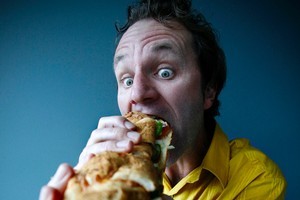 Encircling the globe one over-stuffed and slightly soggy "foot-long" sandwich at a time, Subway has confirmed what some of us had probably begun to suspect: it has grown into the largest fast-food chain in the world, surpassing even its burger-flipping rival McDonald's and easily dwarfing Burger King.
With an "Eat Fresh" advertising slogan, the United States-based chain has now established baloney 'n'bacon beachheads in 95 countries.
Britain alone has 1350 Subway shops and in China, a 200th branch will soon open. New Zealand has 229.
"Unbelievable", was the response from the company's co-founder, Fred DeLuca, who was just a 17-year-old wanting to generate extra cash to pay for university when he opened his first sandwich shop in Bridgewater, Connecticut, in 1965 with US$1000 lent by a friend, Peter Buck, who became his business partner.
Catching up with the mighty McDonald's was hardly on his mind at the time.
But he and Buck did have a business plan of sorts: to open 32 new Subways over the next 10 years in the north-eastern United States.
Four-and-a-half decades later - and 27 years after the opening of a Subway shop in Bahrain that marked the chain's first foray overseas - they have achieved a growth rate that has been more than 1000 times faster.
In Sweden to attend the opening of a new Stockholm Subway, De Luca, now 63 and listed on the latest Forbes billionaires list as the 692nd richest man in the world, is not gloating about overtaking the famed golden arches of McDonald's, for years considered the ultimate symbol of American commercial imperialism.
"We've been big beneficiaries of McDonald's," De Luca he told the AFP news agency. "I would say if McDonald's never existed, we would have had fewer stores than we have.
"They've gone to so many places and gotten people into the habit of going out to eat on a regular basis and that opens the door for us to grow."
The ingredients of Subway's success are varied. The chain operates an almost pure franchisee model, where local entrepreneurs open and manage their own branches.
They can hire and fire as they please and set opening hours, and in return for paying fees, everything else is seen to by headquarters, including marketing and setting menu choices.
Subway has also earned a reputation for opening up in unorthodox places, such as the US Air Base in Bagram in Afghanistan, a church in Buffalo, and a riverboat in Germany.
It once had an outlet at the Tiwai Pt aluminium smelter near Bluff.
Subways are common in air terminals, petrol-station stores and even the occasional pet-shop.
If you cannot spot it, open your nostrils.
One of Subway's more dubious gifts to humanity is the aroma of their part-baked breads from their on-site ovens.
Nothing symbolises the chain's appetite for daring - or at least for free publicity - more than the decision last year to attach a Subway shop to the scaffolding of One World Trade, the new skyscraper being built at Manhattan's Ground Zero.
As the structure grows towards its eventual zenith of 105 floors, so the Subway, built inside a pod that is really a shipping container, will rise, supplying sub sandwiches to steelworkers who otherwise would have to make the trip back to earth for sustenance.
The chain has benefited also from consumers' growing health consciousness.
For years, its marketing drive has been the freshness of its offerings.
In Britain, it tries to underscore a commitment to healthy eating, sponsoring the TV show The Biggest Loser and partnering with groups such as Heart Research UK.
Of course, just how healthy Subway makes you will depend on the nature of your grazing.
The selection process - all those different breads to choose from, including honey oat or Italian herb, as well as myriad cold-cuts and cheeses - could itself consume a few mental calories at least.
And while a 14cm Veggie Delight on nine-grain wheat cannot be too bad for you, the foot-long steak and cheese is hard to resist, as is the Marinara, with its sloppy meatballs.
With those sorts of choices, the world may be eating more hearty than fresh with newly dominant Subway.
33,749
Subway outlets in 95 countries
32,737
McDonald's restaurants, in a similar number of countries
12,000
Burger King branches in 73 countries
- INDEPENDENT