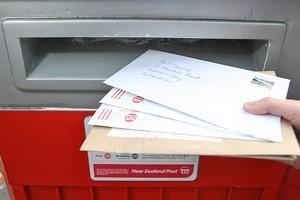 Job losses are possible at New Zealand Post and Kiwibank.
New Zealand Post chairman Michael Cullen yesterday told Parliament's commerce committee that difficult trading conditions and a flat economy continued to negatively affect business.
NZ Post continued to suffer a decline in its traditional business and the recession had compounded that as firms and government made savings by cutting bulk postage.
Also Kiwibank faced capital demands.
"We anticipate much slower growth over the next year or so than we've been having but that's an opportunity to put a firmer base in place for further growth in the future," Dr Cullen said about the bank.
"One of the issues is that Kiwibank has been staffed and organised on the assumption of very strong growth. At any particular point in time it's staffing is reflecting the anticipated needs for the growth of the next phase rather than it's current service delivery profile. As a consequence its actual cost ratio is actually quite high by banking standards.
"This period of slow growth which is going to be inevitable for Kiwibank over the next year or two is probably an opportunity to address more firmly that issue of cost reduction within Kiwibank itself."
At NZ Post he wanted to see a more strategic approach.
Dr Cullen told the committee that work was underway to better streamline NZ Post and drive down internal costs.
Speaking to reporters after the meeting Dr Cullen did not rule out job losses but hoped they could be made through attrition.
"But we can't say there won't be any job losses."
On Kiwibank he said the board was holding a strategic retreat today and tomorrow.
"That will give a clear picture to management going forward in that regard."
On the upside Dr Cullen told the MPs that NZ Post's parcel and courier services were growing. While the internet hit mail it also meant more people were sending goods bought on-line.
There was "potential rationalisation" by using couriers more.
The company was pushing for a government contract on identification registration and saw possibilities as government changed procurement policies to get a bigger share of courier business.
It was also working on a secure mail platform with a better idea of how that would work in a few months time.
In some Scandinavian companies mail providers opened and scanned mail and then sent it to clients but Dr Cullen didn't think New Zealanders would accept that.
- NZPA