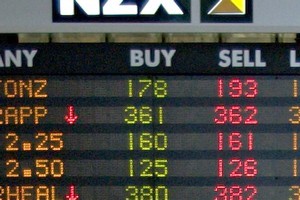 The New Zealand sharemarket plunged to a two-month low amid aggressive selling on world markets, after the Japanese prime minister raised the spectre of a nuclear disaster following several explosions at a power plant on the tsunami-hit northeast coast.
Tokyo's Nikkei share average fell 14 per cent in quick order late this afternoon after Prime Minister Naoto Kan said radiation levels had become high near Fukushima Dai-ichi nuclear power plant, 240km north of Tokyo, and the risk of further leakage was rising.
Kyodo news agency later quoted the Tokyo metropolitan government as saying "minute levels" of radiation had been detected in Tokyo.
Japan was hit by a massive 9.0 magnitude earthquake on Friday, followed by a devastating tsunami, with a death toll expected in the thousands.
In New Zealand, the benchmark NZX-50 index closed down 47.06 points, or 1.4 per cent, at 3314.14, after losing 21.6 points yesterday.
Investors had every right to be concerned, although fear and greed was driving more speculative investors to seek liquidity which had accelerated the market decline, Nigel Scott, of Craigs Investment Partners, said.
"People can understand the rebuild (in Japan), they can understand the clean up, the tidy up, but the bottom line is the market's probably reacting to the environment of what status those nuclear reactors are at this point in time."
New Zealand's sharemarket had seen uncertainty since the middle of last week when the Reserve Bank cut the official cash rate but had been slowly recovering before the market ructions.
Among top stocks, Air New Zealand lost 11 per cent, or 13c, to 106 after the majority government-owned airline said it no longer expected to be profitable in the second half of the financial year.
Last month, Air NZ said it expected to make a profit in the six-month period but today said the financial impact of the Christchurch earthquake was more severe than expected, and the Japanese disaster would hit revenue.
Just three shares closed higher on the top-50 - Argosy Property, up a cent at 71, Hallenstein Glasson, up a cent at 364, and Steel & Tube, up a cent at 251.
Fletcher Building was down 9c at 866, Telecom lost a cent to 197, Contact Energy was down 11c at 583, Auckland Airport fell 5c to 217 and Sky City lost 2c to 338.
Insurer Tower fell 8c to 171, Sky TV was down 7c at 539, and Mainfreight fell 10c to 865.
Dual-listed stocks were also hit, with ANZ down 91c at 3054, Westpac off 45c at 3075 and Telstra down 4c at 356.
Australia's S&P/ASX 200 Index was down 2 per cent at 4528.
Earlier in the United States, concerns over the economic impact of the Japanese earthquake and tsunami led to a broad sell-off in the stock market.
Many global companies face disruptions after the destruction of vital infrastructure, damaged ports and factory shutdowns in the Japanese disaster, triggering worries that global growth would suffer a setback just as the world economy was emerging from the effects of the financial crisis.
- NZPA