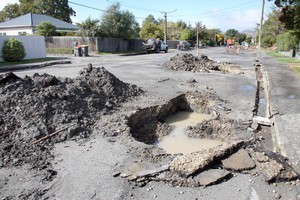 It's a commonly used phrase after things have gone pear-shaped - so what's the learning from this?
Lawrence Smith of Cabbage Tree Creative, a Christchurch-based web agency that specialises in design, development and online marketing in the tourism sector, says he learnt after the September earthquake that his business wasn't resilient enough.
"We lost our building and had just half an hour to clear it out of everything critical to getting the business up and running again.
As the power was down we lost our servers so had no ability to work.
See his story of coping after the September quake here.
The learning definitely was that we had to invest in an infrastructure that would give us the ability to keep working offsite, anywhere, anytime."
He says key issues the company dealt with after the quake where around backing up information and working remotely.
"We put in VPN (Virtual Private Network) connections that allow you to connect private networks through the Internet. They are dedicated links on a pubic network but which provides the same security and features as the private network," says Smith.
These have allowed the company to keep servicing its clients as normal just days after the February quake.
"After September we realised you can't operate efficiently if your office is compromised," said Smith.
Although they put procedures in place, Smith said they are still had some lessons to learn from last month's disaster.
"We found we still had some issues when the power went down so now we are looking to out source all our email and phone sources so that we really can work anywhere in the world.
"We've set up a VOIP (Voice Over Internet Protocol) phone service so we don't have phones in the office and everything is carried through internet access. Having phone and email offsite puts the company in a fairly resistant position."
Smith says there is also increasing discussion over cloud computing which allows files to be stored off site.
"It can be hard and expensive to set up but that's a cost benefit analysis you have to go through. What would the complete failure of your business cost you and what's it worth to put robust back-up procedures in place?
"After these last two quakes, I think businesses really need to be asking themselves those questions because there is a lot you can do to make your business resilient so when disaster does strike you can still work.
"The question is whether people are learning from these lessons or not," he says.