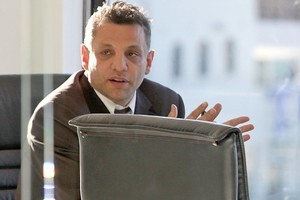 Besieged Wellington property and football tycoon Terry Serepisos has been granted another adjournment as he battles to save several of his companies from liquidation.
The Inland Revenue sought an order to liquidate five of his Century City companies which owe more than $3.5m in tax and penalties, in the High Court at Wellington this morning. One of the companies is Football Ltd, which owns the Phoenix A-League soccer club.
Associate Judge David Gendall adjourned the hearing until April 18, saying the matter would be disposed of on that date.
The court was told the vendor had confirmed an agreement to pay the debt in full, and lawyers for IRD and the ACC agreed to the adjournment.
IRD lawyer Rocky Meng said there had been some progress, which had increased confidence the outstanding amount would be paid.
On Monday, Associate Judge Gendall refused a long adjournment, saying the matters could not "be allowed to simply drift". He cited the substantial debt involved and the fact that a number of the companies were adding to that by continuing to trade.
"This is at least the fourth call of these matters," he said.
He ordered the case back before the court today.
Along with Century City Football, the other companies in the group in danger of being liquidated are Century City Hunter Street, Century City Investments, Century City Developments and Century City Management.
In addition, ACC has filed for liquidation of Century City Football, which owes it $335,054, and Century City Developments, owing $95,616.
Mr Serepisos had announced a US$100 million ($135 million) loan from Western Gulf Advisory that would allow him to restructure his Century City empire.
Mr Serepisos admitted last week that he paid a fee to WGA, understood to be more than $1.5 million. But the loan has yet to arrive.
- NZPA