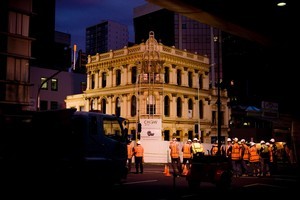 Palace Hotel owners John and Michael Chow have slammed an Auckland Council report which blames them for failing to ensure the building was being safely renovated prior to its demolition.
The Chows this afternoon issued a statement via their lawyer expressing disappointment at the hotel's demolition and the fact their first sighting of the report came via the media.
The Chows also highlighted discrepancies between the Council commissioned report and the view of their own engineer, who said the building could have been saved via bracing.
The 124-year-old Palace Hotel building in central Auckland was reduced to rubble following a council order in November last year to demolish it.
The Chow Group purchased the building on Victoria Street for $3.3 million in 2008 and were renovating it for use as a brothel, when cracks starting appearing in its walls.
Auckland Council's Building Control Manager Ian McCormick said an investigation by the Council and three independent engineering consultancies, found that the collapse of the Palace Hotel was caused by its basement walls not being adequately supported during its renovation by the Chow Group.
The Chows failed to do all that was necessary to ensure the building was being safely renovated, and the owners' site engineers and architects should have recognised the building was being placed at risk, he said.
The building had rotated and was constantly moving by up to 5 millimetres an hour towards the street before the demolition order was made, the report said.
The Chows' engineer Maurice Harris said the building was not in a state of imminent collapse at that time and the rate of movement was decreasing.
"Council's comments concerning public safety and the risk to other buildings, along with the threat of proceedings against the owners, are simply a smoke screen to cover its unjustified action in the face of evidence that the premature action of demolition was unwarranted and risk to public and buildings avoidable," the Chows said.
The Council said today it was considering prosecuting the Chows following the release of the report, a move the Chows have dismissed as "nonsense".
"The owners relied at all times on the on the professionalism of (their engineer and construction company) the companies and views Council's threat as simply an attempt to divert public attention from its own failings," the statement said.
The Chows said they continued to reserve their legal position against Council for what was an "avoidable decision to destroy by demolition its former heritage building".