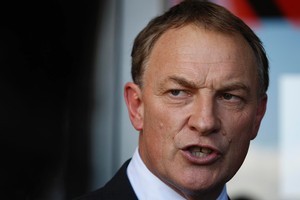 The Government needs to act quickly to prevent a skills shortage that could cripple efforts to rebuild quake-hit Christchurch, Labour leader Phil Goff says.
Mr Goff said today that immediate action was needed to get people into training courses for much-needed trades like building, plumbing and drain-laying.
Without extra training there would be a skills shortage in a year to 18 months that would "cripple the rebuild effort, cause significant delays and push up the cost of construction".
Mr Goff said the pool of skilled labour had been shrinking throughout the country.
He called on the Government to lift the cap on numbers of building trades students and promote accelerated intensive training courses, including apprenticeships.
"This is a critical issue. It cannot be ignored," Mr Goff said.
"The Government must act now to build an army of workers with the right mix of skills to rebuild the devastated Canterbury region, including the tens of thousands of homes, schools and businesses that have been destroyed or damaged."
Mr Goff said the Government needed to ensure Canterbury businesses were given first option for construction projects, if their bids were competitive.
"It's important that rebuilding starts as quickly as possible to keep them and the local economy afloat," he said.
The Government also needed to ensure Earthquake Commission funds were quickly available to businesses undertaking rebuilding work.
"We don't want businesses that are already under financial pressure to fail simply because they're not being paid on time."
Prime Minister John Key said in Parliament yesterday the long-term implications for the local economy were positive, with reconstruction efforts providing employment and training opportunities for young people.
"It will be a long process as we put together Christchurch, but it is our second-largest city, the home to 400,000 people, a significant part of our economic base, and a place where all New Zealanders have some attachment or memories.
"It is important that we get that job done properly, quickly, and with the best interests of Cantabrians in mind."
- NZPA