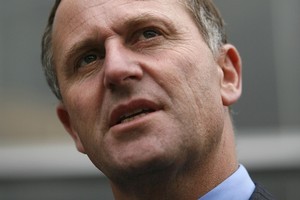 Prime Minister John Key has admitted a claim that 10,000 houses would have to be abandoned in Christchurch was not based on official advice.
On Monday, Mr Key said "potentially some sections and some areas of Christchurch ... will need to be abandoned", citing the 10,000 figure.
But the figure was questioned yesterday, prompting the Government to clarify that the figure was an estimate from Earthquake Commission engineers after a flyover of the city in the days following the February 22 earthquake.
In the House, Opposition leader Phil Goff asked what advice Mr Key had received from Civil Defence national co-ordinator John Hamilton, or any other officials, before saying some neighbourhoods would not be rebuilt.
"None," Mr Key replied.
Asked to clarify by the Herald, Mr Key said: "The informal advice we've had is that there are certain areas that can't be rebuilt, or streets or houses that can't be rebuilt, or land that can't be rebuilt.
"In the fullness of time when we get the geotechnical advice, we'll be able to absolutely confirm which areas.
"We know last time around 20 properties couldn't be rebuilt at all, and this time it will be significantly more."
After question time Mr Goff said Mr Key should not have said anything until he had the official reports, even if it seemed obvious to the naked eye that some areas would have to be abandoned.
"It's not wise to create concern in communities without being able to say which communities he's talking about not being rebuilt, or having the reports on which he can even make the statement that they can't be rebuilt.
"The response has to be measured, and based on factual information, not spun off the top of his head. Instead people are going to say, 'We don't know whether that's us, we don't know what that's based on, we don't know where we might go to.'
"All those people are already under huge strain at the moment, and we just have to be so careful in not making the situation worse for them."
When asked if he thought his comments were premature, Mr Key said: "No."
Christchurch Mayor Bob Parker and support groups yesterday tried to dampen fears over which neighbourhoods may not be rebuilt.
Mr Parker said that talk about abandoning neighbourhoods was speculation.
"With regard to the land remediation, the simple fact of that matter is that everything else until we get that geotechnic information is really speculation and can be very alarming," he said.
"So I want you to relax, and when we've got that information those in the affected communities will be the first to know."
The chairman of support group CanCERN, Tom McBrearty, warned about upsetting Canterbury residents unnecessarily.
"[Monday] night my phone began [ringing] at 7.30pm and didn't stop ringing till 2am this morning, with very distressed Dallington and Riverside residents, very upset about the interpretation of land remediation."
- Additional reporting, Isaac Davison