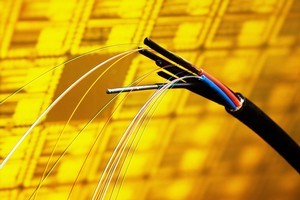 Increased competition to Telecom's bid for Government broadband contracts is chipping away at investor confidence, say analysts.
Crown Fibre Holdings (CFH) announced this morning it will enter into priority negotiations with the Central Fibre Consortium, who is vying to build the ultra-fast fibre network in towns and cities across the North Island.
Telecom is also negotiating to lay fibre in these regions, but will now face competition from the consortium in Napier-Hastings, Palmerston North, Rotorua, Taupo, Pukekohe, Waiuku, Whakatane, Gisborne, Feilding and Masterton.
The Central Fibre Consortium is made up of the regional lines companies Counties Power, Horizon Energy Distribution, Unison Networks, Central Lines and Eastland group.
The announcement is a similar to a move last month where CFH named Vector as a priority negotiator and rival to Telecom in the Auckland leg of the broadband scheme.
Telecom is a priority bidder in 25 candidate areas across New Zealand.
Forsyth Barr's Guy Hallwright said Crown Fibre Holdings may want rival bids in every region Telecom is vying for.
"It's starting to look like they want priority bidders as well as Telecom in all the areas," he said.
Communications Minister Steven Joyce welcomed the move and said competition will deliver the best result for taxpayers and consumers.
But First NZ Capital's Greg Main said it creates more uncertainty for Telecom's investors.
"It highlights investment risk and uncertainty. It doesn't give investors much confidence that (Crown Fibre Holdings) won't keep changing the rules either, even if (Telecom) gets an agreement," Main said.
Hallwright said the announcement is not positive for Telecom's investors, but any reduction in share price will be felt fairly immediately.
"There's still a lot of uncertainly out there until we know what the UFB selection process will bring," he said.
Telecom's share price was down 0.93 per cent per cent this morning to $2.13.