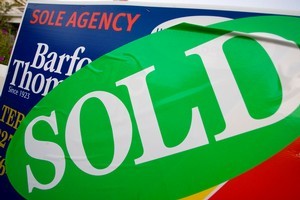 The drop in fixed home loan interest rates by major banks this week could turn out to be a flash in the pan if the Reserve Bank doesn't lower the official cash rate on Thursday, a banking expert says.
At the beginning of the week ANZ and National Bank lowered their rates - anticipating a cut in the OCR next week - causing other banks to quickly follow suit.
Term deposit rates have also been lowered.
"Because there's a prospect of a reduction in the OCR, that means that over the next 12 to 18 months it's likely that the interest rates will be lower than previously expected. That means the wholesale rates [which the banks have to pay to access funding] could come down," said David Tripe, of Massey University's Centre for Banking Studies.
But Tripe said there was no certainty the Reserve Bank would announce a cut to the OCR during Thursday's meeting.
"And if they don't, there could be some movement [in home loan interest rates] back up again," he said.
BNZ economist Craig Ebert said this week's move by major banks to lower rates prior to the announcement was abnormal.
"Normally with these kinds of statements - particularly where it can go either way - the banks would simply wait to see what the Reserve Bank did and then respond accordingly after it knew what the [Reserve] bank had done," Ebert said. "This was quite unusual in that one bank [ANZ/National Bank] started to reduce rates before we actually knew what the Reserve Bank had decided to do and it did so on the assumption that the Reserve Bank would be cutting rates."
He said last week's earthquake had been a "game changer" for economic policy.
"Before [the quake] struck we were thinking a rate hike might be in the pipeline for September, so not exactly soon. But the earthquake has changed things materially and we've adjusted to that."
Ebert said the BNZ was expecting the Reserve Bank to cut the OCR by 25 basis points, or 0.25 per cent, to 2.75 per cent.
There was a chance of a 50 basis point cut, he said, and a smaller chance that Reserve Bank Governor Alan Bollard "may just hold the line".
Ebert said the BNZ had put odds of a 25 basis point cut at 60 per cent, a 50 basis point cut at 30 per cent and the chance of no change at 10 per cent.
ASB economist Jane Turner said she expected a 50 basis point rate cut at the March 10 meeting.
"The personal, economic and financial ramifications for the entire economy from the February 22 earthquake are becoming increasingly severe as more information comes to hand," said Turner. "At a time of national crisis, when the underlying economy is already proving frustratingly weak, a rate cut would potentially be very helpful to the recovery of the economy."
Asked how low interest rates may go after the quake, Ebert said that remained to be seen. "We're not seeing this as a cycle of cuts, it's more of an adjustment to what's happened."
MORTGAGE RATES
ANZ/National Bank
* One-year fixed: down 0.50 per cent to 5.95 per cent
* ANZ floating rate: 6.20 per cent
* National Bank floating rate: 6.24 per cent
Kiwibank
* One-year fixed: down 0.50 per cent to 5.95 per cent
* Floating rate: 6.15 per cent
ASB
* One-year fixed: down 0.50 per cent to 5.95 per cent
* Floating rate: 6.25 per cent
Westpac
* One year fixed: down 0.50 per cent to 5.95 per cent
* Everyday floating rate (revolving credit): 6.10 per cent
* Floating rate: 6.74 per cent
BNZ
* One-year fixed: down 0.10 per cent to 6.35 per cent
* Also established "Classic" fixed rate this week at 5.95 per cent for one-year.
* Floating rate: 6.09 per cent