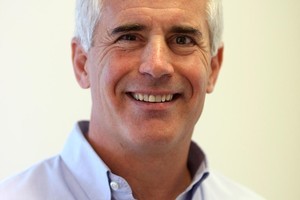 The hunt is on for a new boss at the country's biggest company - dairy co-operative Fonterra.
Chairman Sir Henry van der Heyden yesterday said chief executive Andrew Ferrier had indicated some time ago he wanted to step down by the end of the year.
"It is possible that we will have identified a suitable candidate by the second half of this year but Andrew is committed to continuing in his role until we have found the right person," van der Heyden said.
The assessment and development of internal candidates had started nearly two years ago and an international search was put in place at the end of last year.
Ferrier, who joined Fonterra in 2003, said he would be involved in finding a successor, although the responsibility was with the board.
"You always want to choose the best candidate, whether it's internal or external," he said.
"There's pros and cons to both and it ultimately comes down to who is going to bring the most leadership, the most stability, who brings together all the qualities that you need in a complex role like chief executive Fonterra."
The business was in good shape, he said.
"I came here to do a job and I can go out with my head high saying job well done."
Fonterra collected 14.7 billion litres of raw milk during 2009/10 - about 89 per cent of national milk production - and posted revenue for the year ended July 2010 of $16.7 billion.
Ferrier planned to stay in New Zealand.
"I have had 17 years as a chief executive, including eight years at Fonterra, and I am looking forward to more flexibility in my life, spending more time with my family, and choosing from a number of business interests that are available to me."
Federated Farmers Dairy chairman Lachlan McKenzie said Fonterra was a better company now than when Ferrier started.
"He does have the ability to go out, reach out and talk with farmers rather than to farmers," McKenzie said.
There were high and low points, including in 2008 the co-operative's 43 per cent ownership of Chinese dairy company Sanlu - one of 22 firms caught up in a melamine contamination scandal in which at least six infants died.
Sanlu went bankrupt and Fonterra wrote off its $201 million investment.
An attempt by Fonterra to change its capital structure begun in 2007 was dropped before the first vote when it became clear farmers would not support a model that included the creation of a listed asset-holding company.
However, a subsequent proposal aimed at removing redemption risk, providing permanent share capital and including share trading among farmers was last year given 89.85 per cent support by farmers.
Jarrod Moyle, managing director of Moyle Consulting, said Fonterra would be looking for someone with specific skills and experience.
"Probably in the primary sector or in food processing or something like that but of a substantial size," Moyle said.
Directors would want to ensure they got the best person and look at entities of similar scale.
"Which there are very few in New Zealand so it's highly likely if they look externally they'll probably find, again, someone from overseas," he said.
Fonterra's 2010 annual report showed Ferrier's pay for the year ended July 31 was in a range with an upper limit of $5.11 million, compared to $3.63 million the previous year.
INTERNAL CANDIDATES
Fonterra's executive committee
* John Doumani:
Managing director of Australia/New Zealand.
* Jonathan Mason:
Chief financial officer.
* Andrei Mikhalevsky:
Managing director of global ingredients and food services.
* Gary Romano:
Managing director for trade and operations.
* Mark Wilson:
Managing director of Asia/Africa, Middle East.
* Jennifer Kerr:
Group director of human resources.
* Kelvin Wickham:
Group director of supplier and external relations.