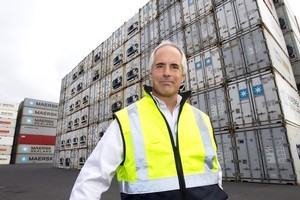 Fonterra chief executive Andrew Ferrier has announced he is stepping down from the job later this year.
Chairman of Fonterra - New Zealand's largest business - Sir Henry van der Heyden has just announced that Ferrier had "indicated some time ago that he wanted to move on by the end of 2011. But at the same time he had made it very clear that his first priority was to do what was right for the business."
"As a result, Fonterra and the Board are well prepared for a smooth transition to a new CEO," said van der Heyden.
"Andrew has devoted eight years to building Fonterra into a highly successful co-operative delivering great results for its farmer shareholders and New Zealand," he said.
Ferrier has collected at least $24.9 million while leading the company, with his pay more than tripling to a band of between $5.1 million and $5.11 million in the 2010 financial year.
The co-operative takes more than 90 per cent of the milk produced in New Zealand and has annual sales of almost $17 billion.
Ferrier's announcement comes after the world's biggest dairy exporter last week lifted its forecast pay-out to farmers by 60 cents, beating expectations and bringing the total payment to as much as $8 a kilogram of milk solids.
Prices are soaring globally on strong demand in Asia, particularly from China.
Ferrier has a group of deputies responsible for its divisions who are likely internal candidates.
They include John Doumani, managing director of Fonterra Australia/New Zealand; Gary Romano, managing director of trade and operations; Andrei Mikhalevsky, managing director of global ingredients and food services; and Mark Wilson, managing director for Asia/Africa and the Middle East.
Chairman van der Heyden said that Ferrier had "always wanted a planned and orderly transition to a new leader and we are particularly grateful for the flexibility he has shown the Board."
Van der Heyden said the board would be considering internal and external candidates. The assessment and development of internal candidates had started nearly two years ago and an international search was put in place at the end of last year.
"It is possible that we will have identified a suitable candidate by the second half of this year but Andrew is committed to continuing in his role until we have found the right person."
Ferrier said he intended to continue living in New Zealand after he left Fonterra, but wanted the flexibility to spend more time with family, including in his homeland Canada.
"I have always thought that a successful CEO should build a culture and capability in an organisation, to ensure that it continues to improve when you move on," said Ferrier.
"I have had 17 years as a CEO, including eight years at Fonterra, and I am looking forward to more flexibility in my life, spending more time with my family, and choosing from a number of business interests that are available to me."
Van der Heyden said that neither he nor Ferrier would be making any further comment on the transition until the new CEO had been identified. "As far as we are both concerned, it is business as usual."
- HERALD ONLINE / BUSINESSDESK