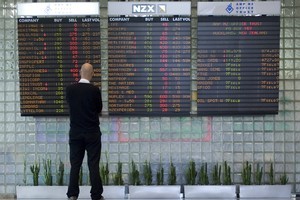 Stock market operator NZX has reported an 18 per cent rise in normalised net profit to $11.7 million in 2010, with a "distinct" rise in revenue in the final quarter.

In its comments on the full year result, the company highlighted a 17 per cent rise from 2009 in revenue to $50.2m, and a 19 per cent rise in ebitdaf (earnings before interest, tax, depreciation, amortisation, and financial instruments) to $20.9m.
Bottom line profit fell 76 per cent to $9.3m, with 2009 having included the proceeds of asset sales. A dividend of 10c is to be paid for 2010.
NZX said the result was delivered against a backdrop of difficult market conditions, with contributions to the result having come from across the entire business, but most notably in the areas of agricultural information, clearing house participation, technology contracts and new product development.
Operating expenditure grew to $29.3m compared with $25.3m in 2009, but was managed to lower levels in the fourth quarter following the completion of several large, capital-intensive projects.
- NZPA