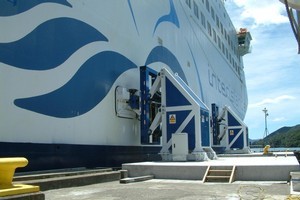 Cavotec MSL Holdings is not the only firm thinking about quitting the NZX, says a market commentator.
The global engineering firm announced last week that it planned to vacate the New Zealand stock exchange and relist on Stockholm's Nasdaq OMX.
Cavotec MSL Holdings was formed in a 2007 merger of Christchurch's Mooring Systems - whose products use vacuum technology rather than ropes to moor ships - with Netherlands-based Cavotec Group. Under the proposal announced last week all shareholders in the firm will be asked to exchange their existing shares, on a one-for-one basis, for shares in a newly created Swiss holding company through a scheme of arrangement.
That company will then apply for a sole listing on the Nasdaq OMX Stockholm, part of the world's largest exchange company.
"Despite having many shareholders and friends in New Zealand who fully support Cavotec, the development of [the company's] share value has been impacted by the downturn in capital markets and worldwide combined with a generally illiquid trading environment on the NZX," said Cavotec executive chairman Stefan Widegren.
Market commentator Arthur Lim said he did not believe Cavotec would be the only NZX-listed firm now "considering its options".
"I'm certainly aware of a few other [locally listed] companies seriously considering delisting," Lim said.
He said Cavotec and other NZX-listed firms were suffering from a lack of coverage by market analysts, a shrinking sharebroking industry and general lack of liquidity in the market.
"When you don't get proper coverage by analysts, how do you go about getting a realistic share price?" Lim said.
Cavotec said it hoped its shareholders would provide "indicative support" for the delisting proposal at the firm's annual meeting, to be held on April 28.
Another meeting would be held for final investor approval in August, the company said.
Cavotec chief executive Ottonel Popesco said the proposed reorganisation would allow the company to continue its ongoing growth pattern and develop shareholder value.
"We believe that by following this strategy the Cavotec share will remain a viable option for shareholders in New Zealand and around the world," Popesco said.
Lim said Cavotec's decision to keep its listing in New Zealand, despite being a firm with a global focus, had always been questioned by some sceptics in the market.
The MoorMaster systems are made in Christchurch, though Cavotec's corporate headquarters is in Switzerland.
The phones were down at the company's Christchurch operation when the Business Herald tried to find out how the operation and its staff had fared during last week's quake.
Cavotec's share price closed down 5c at $3.30 on Friday night.