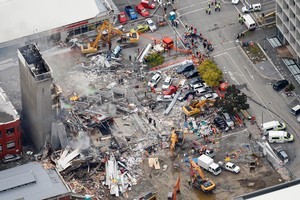 Cabinet will tomorrow consider a $20 million cash injection sought by Christchurch businesses - just to survive the next month.
But police are refusing pleas to escort business owners into the dangerous cordoned-off CBD to recover vital records and computer databases, so they can set up shop elsewhere. Police say it's just too unsafe.
Canterbury Employers' Chamber of Commerce chief executive Peter Townsend said businesses desperately needed the Government to reintroduce the employment support scheme set up after last year's quake. That was the only way struggling employers would be able to pay their workers.
The previous Government payout provided $10m to 2000 companies and about 11,000 workers affected by last September's 7.1 magnitude earthquake. The extensive damage and huge impact on the central business district after Tuesday's quake meant the amount needed had doubled this time, said Townsend.
"We're looking at survival first and business development after that. If the businesses don't survive, they can't recover," said Townsend.
Finance minister Bill English's office said the proposal would be discussed at the Cabinet meeting tomorrow. "It's a priority to consider those issues for the business community quickly," his spokesman said.
ANZ bank economists predict it will take at least five years to make a major dent in rebuilding the stricken city, with shortages of resources creating a major stumbling block.
In the short term, the employment support scheme is one of several measures the Chamber of Commerce has requested to help get Christchurch's economy back up and running. Also on the wishlist is funding for 30 business co-ordinators to assess businesses' requirements and help them develop future plans.Townsend also wanted a system developed so police or USAR teams could escort people into cordoned-off areas and damaged buildings to retrieve essential items.
But police spokesman Steven Hill said it was still too risky. "Every time there is an aftershock building stability changes. It's a very tricky environment to be in so at the moment we can't put resources into escorting people in and out of the city," he said.
The IRD has given Christchurch residents and business a break by announcing they would take a flexible approach to tax matters, acknowledging that tax records may have been lost or destroyed.
Townsend said big employers such as Tait Electrical and meats producer Verkerks were operating, and Independent Fisheries had 100 people ready to work as soon as power was restored to its plant.
The Chamber of Commerce has also set up a database of vacant commercial space to help companies find new premises in the city.
* 65,000: Businesses in Canterbury
* 335,000: Employed workers in the province
* $12 billion: Estimated cost to repair quake damage