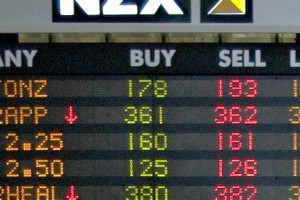 The New Zealand sharemarket posted modest losses on a day some markets finished a week plagued by worries about instability in the Middle East on a positive note.
The benchmark NZX-50 index closed down 4.439 points, or 0.132 per cent, at 3363.914, after opening down 5.86 points. Turnover was worth $105 million. There were 31 rises and 37 falls among the 111 stocks traded.
"Looking ahead, at least in the near-term we see equity markets being dictated to by the 'goings-on' in the Middle East and North Africa," Ben Potter of IG Markets said.
Key stock Telecom slipped 2c to a 10-week low of 209, while Fletcher Building rose 5c to 863 after announcing the Commerce Commission had cleared its offer for Crane Group.
The profit results kept on coming.
Guinness Peat Group rose a cent to 76 after reporting a full-year net profit of £46 million, a turnaround from the £36 million loss the year before.
Vector rose a cent to 248 after reporting half-year net profit dropped 2.8 per cent.
Pyne Gould Corp has delayed publication of its results for the six months to the end of December in the wake of the devastating Christchurch earthquake.
Contact Energy rose a cent to 624 after welcoming a draft decision to grant resource consents for 168 wind turbines at its proposed Hauraki windfarm in Waikato.
Xero rose 2c to 256, Cavalier Carpets rose a cent to 335 and Infratil rose a cent to 195.
OceanaGold fell 15c to 365 after rising strongly earlier this week, Ebos fell 5c to 735 and Nuplex fell 8c to 331. TrustPower fell 3c to 719 and Sanford fell 4c to 502. Auckland Airport fell 2c to 224 and Port of Tauranga fell 2c to 783. NZX fell a cent to 161. SkyCity fell a cent to 326. Restaurant Brands fell 2c to 241.
In the United States, the Dow Jones industrial average and Standard & Poor's 500 closed down but well off the day's lows in a volatile session, suggesting investors aren't ready to give up on the market's rally.
The S&P 500 opened lower on deepening concerns that higher oil could stifle economic activity. Stocks hit their worst levels when Brent crude neared US$120 a barrel on Libya's turmoil, but a drop in oil prices prompted a corresponding recovery in stocks.
Based on preliminary data, the Dow was down 0.3 per cent to end unofficially at 12,068.50, the S&P 500 was down 0.1 per cent to 1306.10, while the Nasdaq Composite Index was up 0.6 per cent to 2737.90.
- NZPA