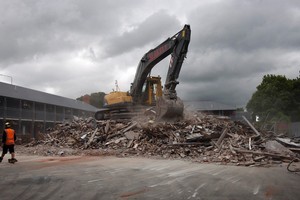 Executives at Hawkins Construction, the country's second-largest builder, were yesterday assessing Christchurch building damage and assisting in recovery operations.
Chris Hunter, chief executive of the McConnell-owned business, flew south from his Parnell office on Wednesday and said he was utterly stunned at what he had found.
But he praised staff who he said were involved in emergency, search and rescue, recovery and building assessment operations.
"One of our guys was holding a man while they had an amputation. Another was holding a woman who sadly passed away," a shocked Hunter relayed from Hawkins' Addington base.
The building boss said he wanted to relay one key message: "This is about helping. About the safety of our people, emergency support and our clients' personnel and their families."
Staff had been at building sites, including the Pyne Gould building.
"Our guys are smashing down walls, finding secondary stairway accesses, whatever they can." Hunter said the firm's work included assessing the Clarendon Tower office block on Oxford Terrace.
Hawkins works for IAG New Zealand, the country's largest general insurer which has the State and NZI brands. Hunter said his firm was involved in insurance repair work worth millions on many sites across the city: houses, office blocks, shops, warehouses and factories.
"I'm not thinking about it as a business opportunity, we're just here to support families and help fix up their businesses. But this will be a volume gain for us in terms of residential, commercial and infrastructure services," he said.
Hawkins formed an infrastructure division in 2007 and with specialist civil engineering capability. No staff were injured in the quake.
Hawkins was almost finished building Christchurch International Airport's domestic terminal building, the main gateway for international guests arriving in the South Island, after winning the $115 million construction project for an integrated terminal, due for total completion in May 2012.
The new domestic terminal received only minor damage, Hunter said, mainly to ceilings.
Fletcher Construction this week put its Christchurch house repair programme on hold. It is the Earthquake Commission's agent but said a halt had been called while it worked with the commission to ensure buildings were safe, secure, sanitary and weathertight.