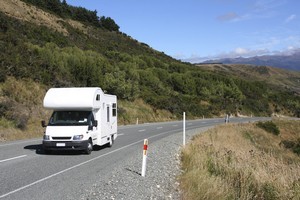 Tourism Holdings, the campervan rental company, forecast a full-year loss of $4 million, reflecting a slump in European bookings and costs related to the acquisition of the Road Bear business in the US.
The first-half net loss was $1.3 million, from a profit of $1.4 million a year earlier, the company said in a statement. Sales fell 8 per cent to $84.9 million.
Tourism Holdings expects a surge in demand to show up in the 2012 financial year, reflecting the Rugby World Cup though numbers have unexpectedly dwindled ahead of that. Publicity around Australia's storms and floods may have marred the appeal of down-under holidays for tourists from the Northern Hemisphere, it said.
European bookings received in January and February were down 35 per cent from the same time last year.
The company won't pay a final dividend. Its shares have declined 35 per cent in the past year and were last at 61 cents.
Net debt jumped to $90.5 million at December 31, from $36.5 million six months earlier, reflecting the Road Bear acquisition, completed on December 31, and spending to increase the company's Australian fleet.
Road Bear, which offers recreational vehicles for rent or sale, has seen a positive start to the peak June-to-September US season and earnings before interest and tax are expected to be more than 20 per cent above the forecast US$2.1 million, it said.
Strong bookings from Europe have given the company confidence to increase its fleet.
The cost of the expanded fleet will contribute to Tourism Holdings' debt rising to $112 million by the June 30 year end.
The company's New Zealand rentals unit posted an EBIT loss of $3.5 million, worse than the year-earlier loss of $1.4 million, as revenue fell on the back of fewer U.K. customers and lower Australian arrivals.
In Australia, EBIT fell to $4.3m from $6.5 million.
The company said bookings for the Rugby World Cup are "strong"
and it expects to reach capacity in the period of the competition.