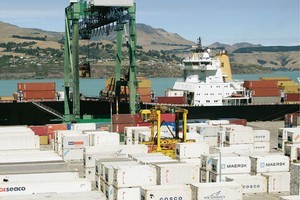 Lyttelton Port says its facilities sustained further damage as a result of the latest Christchurch earthquake, but should have most of its operations running within 10 days.
"Our clear focus is on ensuring that fuel and essential services will get through to Christchurch," said chief executive Peter Davie.
In a statement today the company said its berth had held up well, and expects berthing operations to resume in 48-hours, with a tanker scheduled for fuel discharge on February 26.
The port's container operations were also largely left intact although in need of urgent minor work. Limited operations will be available in three to four days, with full operational capacity restored in 10-days. Deliveries have been halted for the next
24 hours.
General cargo operations were still being assessed with an update expected later.
LPC said it plans to correct misaligned containers at the CityDepot site with operations expected to be restored later today.
KiwiRail, the national rail operator, said yesterday that the line between the West Coast and Christchurch is open and general freight services are expected to start today.
However, the line to Lyttelton Port is still closed due to bridge damage at Heathcote.
LPC shares fell 4.4 per cent yesterday to $2.20, the lowest level since November 2008.