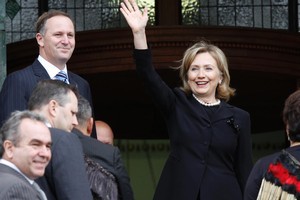 Addressing both Houses of Congress in his State of the Union speech, President Barack Obama urged his fellow Americans to seize the "Sputnik moment".
He was referring to that moment when the US realised it was losing the space race to the Soviet Union.
It was some time in mid-2005 when New Zealand faced a similar moment of decision-making with regard to the relationship with the United States.
Back then the relationship was fundamentally broken, weighed down by unresolved issues from the mid-1980s and new differences over Iraq.
Fortunately key decision-makers in both countries seized the moment to do things differently.
Today, as US Secretary of State Hillary Clinton and Prime Minister John Key agreed last November, the relationship is "at its strongest and most productive in 25 years".
The rest isn't just history. To be sure the Wellington Declaration has moved us decisively into a new phase, but we still need to turn that political declaration into tangible outcomes. There is no point being all dressed up with no place to go.
That's the starting point for the fourth US NZ Partnership Forum being held in Christchurch this week.
The forum is taking a very practical look at how we leverage our shared values to meet shared interests in trade and the economy, security, the environment and sustainable development, especially in the Asia Pacific Region.
The fourth forum takes place just short of five years since the inaugural forum in Washington in April 2006.
That event set the seal on the process of "relationship strengthening" which has proved so stunningly successful. It is tempting to see this new rapprochement as simply reflecting changed circumstances. In fact, this process has been carefully planned and sustained through changes in Administration in both countries.
Does all this matter outside of the Washington or Wellington beltways?
From a New Zealand perspective, despite the correctly placed importance on strengthening relationships in Asia, the United States remains fundamental to our global interests. That's because the US is an indispensable player in world affairs, not one any longer that can fix all the world's problems by acting alone, but one without which global issues like security, sustainable development and economic recovery cannot even begin to be adequately addressed.
New Zealand and the United States share similar outlooks on many international issues. We appreciate the weight which American support can lend to our views.
The US appreciates New Zealand's continuing contribution to promoting good governance in the Pacific, advocating more open markets globally and securing peace and stability in the Asian region or even in far-off Afghanistan, to name just a few areas of common endeavour.
From an economic point of view the US is our third largest export market, our third largest source of imports and our third largest source of tourists. American investment makes up 11.5 per cent of all foreign investment here.
Our inability to secure a free trade agreement with the United States (as Australia did in 2004) has been a source of real frustration for New Zealand business. That's why negotiations with the US and four others to expand the TransPacific Partnership (TPP) - our free trade agreement with Brunei, Chile and Singapore - are so significant. A freer economic relationship through the TPP will expand trade and lower the cost of doing business by eliminating or reducing tariffs for dairy products, beef and a range of other export goods.
Importantly, it will put us on the same footing as key competitors Australia and Chile, which already have free trade agreements with the US. There has been public debate about aspects of the TPP negotiations. This is a good thing but it is important to remember that TPP is a negotiation, nothing has been finalised.
This is the background against which this week's forum takes place. Trade is far from the sole focus but there is no doubt the goodwill generated in these discussions will give impetus to the economic relationship.
Above all the forum is an extraordinary gathering of human talent - including this time 20 younger Americans and New Zealanders who will be meeting in a parallel Future Partners Forum. The forum is about more than star-gazing but hopefully will lead to a further "sputnik moment" as we make the calculation of the value to be gained from an even deeper partnership.
Stephen Jacobi is executive director of the NZ US Council and the organiser of the Partnership Forum.