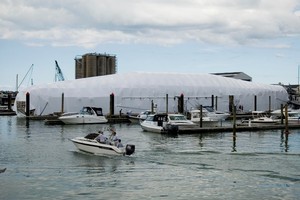 One of the world's biggest and most luxurious private sailing yachts, the Athena, was "shrink wrapped" in Westhaven marina yesterday.
The 90m vessel, owned by American billionaire and Netscape founder Jim Clark, is undergoing a refit at Orams Marine Services in Auckland.
The shrink-wrap technology, provided by Auckland firm Shrinkforce, weatherproofs the yacht so work can be done on the water, removing the need to put it in a shed on land.
Athena is the biggest boat to be refitted in New Zealand, Orams managing director Craig Park told the Herald on Sunday last month.
The three-masted schooner comes with a formal dining room, media lounge, custom-built kitchen and five cabins. It is worth between $70 million and $100 million.
Athena, which takes 10 guests and 19 crew, can be chartered for US$345,000 ($460,000) a week, according to a yacht chartering website.
Abbey Whaley of Shrinkforce said it had been a challenging job, especially setting up the on-water scaffolding.
"It's pretty tricky making sure the boat is balanced."
The wrapping of the boat began at 5am yesterday and was completed by mid-afternoon.
Shrinkforce does about 75 per cent of its business in the construction industry, with the rest in the marine and events sectors.
The highly durable material starts out being about as thick as five sheets of paper, but when heat is applied as it is wrapped around an object, the material shrinks to around 30 per cent of its original surface area.
Ms Whaley said they would wrap five more superyachts this summer.