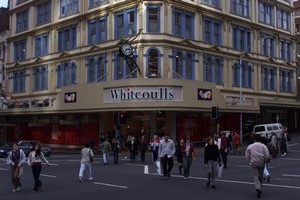 Whitcoulls customers are venting their anger at the book chain, which put itself into voluntary administration last night, as it tells voucher holders they must spend the amount specified on their voucher with cash or credit cards before they can redeem the credit.
Staff at two Whitcoulls stores contacted by nzherald.co.nz said vouchers and gift cards could only be accepted if the customer spent the same value on books or other goods.
For example, to redeem a $20 voucher, a customer would have to spend another $20 on books or other goods.
The national book chain, which includes Borders, put itself into voluntary administration last night in Australia and New Zealand.
See a description of voluntary administration here.
John Bester says his wife bought a $50 voucher from Whitcoulls in Papakura yesterday.
When he saw the news about Whitcoulls going into administration, he went back to the store to ask how he could get his money back and was told he could redeem the voucher - but only if he spent a further $100.
"I said to them I think that is a little bit dishonest. That is extortion."
He believes the company should have stopped selling the vouchers yesterday if they weren't happy to redeem them.
In an email to nzherald.co.nz, Whitcoulls customer Debby said: "This looks like nothing more than a cynical attempt by the administrators to get as much money through the doors in the last days of the company as possible.
"It's hardly the actions of a management team who are keen to see their customer base stay loyal - just a last desperate attempt to squeeze as much money out of them as possible."
Others agreed the policy was unfair.
Melissa, whose husband gave her a $100 voucher for their anniversary, said: "I now effectively have to pay $100 just to claim what he has already paid for. I phoned the head office and they confirmed that is the only way I can redeem it. It's not a very fair way to treat customers. They already have our $100 now they are asking for more?"
Consumer New Zealand deputy chief executive David Naulls said while the current policy put in place by the administrator was not ideal for customers, the "smart bet" would be to get in now and redeem the vouchers.
"If the business keeps trading in the future you might be able to redeem your vouchers in full, on the other hand if it goes into receivership or liquidation then you are classified as an unsecured creditor which does not see very much very often," he said.
"Probably the smartest thing is to take the offer that's going at the moment."
Naulls said the reality of the situation "is what is happening is probably quite legal".
A Commerce Commission spokesperson said: "On first gaze, this is a contractual matter when you buy a voucher.
"If a company has sold a voucher with no intention of honouring it, that might be a breach of the Fair Trading Act, but that is certainly not the case here."
Other nzherald.co.nz readers found confusion among staff when they tried to redeem their vouchers today.
John said at a Borders store this morning, staff told him vouchers "are not currently valid and will become valid again only if Borders eventually avoids receivership".
Lynda, however, says she was allowed to use her voucher at Whitcoulls on Auckland's Queen St today. "I checked with a staff member who said I could use the voucher. When I got to the checkout I was advised I would not be able to use it. It was obvious that the staff were not exactly sure what to do, so they let me use the voucher to purchase my selection of goods without any fuss."
A press release put out by administrators Ferrier Hodgson this afternoon says vouchers "may have value in any business that emerges from the administration process".
Ferrier Hodgson partner Steve Sherman said the options for those currently holding gift cards or vouchers are as follows:
- they can redeem them by matching them dollar for dollar with cash (eg. pay for a $40 book with a $20 gift card/voucher and $20 cash).
- they can retain them for possible use in any business that may emerge from the administration.
- they can make a claim for the face value of the gift card or voucher as an unsecured creditor.
The first meeting of creditors will take place on March 1.
Staff worried for future
New Zealand staff were now asking what the administration would mean for them as they had not been told anything by their employers, National Distribution Union general secretary Robert Reid said.
"It takes a while to understand, as these things flow down, what impact they will have on each level. We are not happy with how this has been handled by the company.
"The company has been very obstructive in pay negotiations and instead of being open with us and their problems, they have been playing hard ball and acting like an anti-union company."
Reid told NZPA the next step would be to track down a representative of the administrators to find out what the move would mean for New Zealand staff.
Ferrier Hodgson partner Steve Sherman said that as far as possible it would be business as usual for the stores while his firm undertook an "urgent assessment" of the company's financial status.
Unlike receivership, the administrators' role is not to sell the business but to try to make it viable again.
Sherman said he would meet creditors - such as book publishers - probably in the first week of March.
The administrators will aim to set up repayment deals with the creditors to buy the company time to get back on its feet.
They will also make a call on whether customers can redeem store vouchers.
If the voluntary administration is unsuccessful, the company could be placed into receivership.
REDGroup is controlled by private equity group PEP.
The separate US-owned Borders chain also collapsed this week but is not linked to the Australasian chain.
New Zealand's Whitcoulls chain comprises of 65 stores, 40 of which are located in Auckland, Wellington and Christchurch, according to its website.
It was first established as Whitcombe and Tombs in 1888 and merged with Dunedin office supplies company Coulls Somerville Wilkie in 1971.
"This is just another tragedy, which reminds me very much of Feltex," Reid said. "It's an iconic New Zealand company being bought out by a private equity company, becoming completely indebted and this is the result that we see. It's tragic for the workers and the New Zealand company that has been built up over the years.
"There must be at least 1000 staff who will be affected by this. We are telling our members that we are working as hard as we can to find out what this means for them. Those on the distribution side at least are entitled to redundancy and other provisions," Reid said.
Booksellers New Zealand chief executive Lincoln Gould said there would be grave consequences, as Borders and Whitcoulls were an important part of the industry.
"We just hope they don't start closing doors - it would be an impact for publishers, consumers and it would be very sad. There are obviously hundreds of other bookshops, so it would not be a terminal problem for the book industry, but it would be of grave consequence," Gould told Radio New Zealand.
- NZPA, NZ Herald staff, Tamsyn Parker and Susie Nordqvist