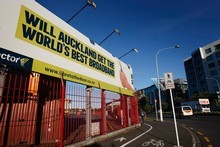 Lines company Vector is now neck and neck with Telecom in the fight to build the lucrative Auckland leg of the Government's the ultra-fast broadband scheme.
Crown Fibre Holdings announced this morning that it will enter into negotiations with Vector to lay fibre in the Auckland area, despite talks with Telecom not being concluded.
The move is a blow for Telecom, which had been the only candidate selected for priority negotiations to roll out broadband in the Auckland area.
Telecom entered into priority negotiations with Crown Fibre Holdings in December to lay fibre in 25 regions around the country ( or 85 per cent of the scheme) which included the Auckland .
Both Vector and Telecom will now vie for Government contracts.
The ultra-fast broadband scheme hopes to offer 75 per cent of New Zealand internet speeds of 100 megabits per second by 2021.
Crown Fibre Holdings chairman Simon Allen said two candidates bidding to roll out fibre in Auckland was a positive development.
"Auckland is attractive for UFB investment in terms of its population and likely demand profile, a preponderance of businesses, health premises and schools. It is great to have two parties, Telecom and Vector, actively seeking to become the Crown's partner for this Candidate Area," he said.
Chief executive Paul Reynolds has previously indicated that if Telecom can't win Auckland it will be harder to participate in the UFB rollout. Shares of Telecom fell 1.4 per cent to $2.20. Vector rose 0.4 per cent to $2.51.
When Telecom entered into negotiations in December, analysts were quick to point out that the deal was not set in stone.
Greg Main from NZ First Capital predicted Vector could still win contracts.
"They could still win Auckland and they could still do a deal with Telecom to help cover Auckland," he said.
Vector chief executive Simon Mackenzie said the company "had continued to negotiate key commercial principles with CFH and were now in a position to undertake further negotiations regarding contractual terms and conditions for Vector to rollout fibre to Aucklanders."
"Ultra fast broadband is a major initiative for New Zealand and the Auckland region more broadly and we want to get it right.
We have supported this initiative from day one and consistently said that Vector would continue to participate as long as it makes commercial sense," he said.
WITH BUSINESSDESK
By Hamish Fletcher @hamishfletcher

Email

Hamish