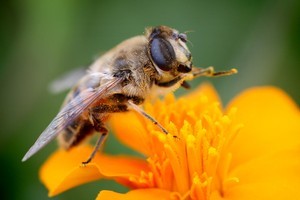 As you flop back into the sun lounger munching on a juicy new season apple spare a thought for the humble bee buzzing around the flowers.
For without the bee there might be no apple to eat - in fact the whole of lunch starts looking pretty dire.
And it's not just lunch that is at stake because honey bees make a vital contribution to New Zealand's $20 billion agricultural industry.
The National Beekeepers' Association estimates the economic value of honey bees to be $5.1 billion, including $1.5 billion value of clover pollination for the dairy industry.
Rabobank says one-third of global food production is to some extent dependent on animal pollination, with the domesticated honey bee accounting for 80-90 per cent.
But life is getting harder for bees - they are under attack from pathogens and viruses and are suffering devastating colony collapses overseas.
Colony collapse disorder was first observed in the United States in 2006, Rabobank said.
In a recent report the bank said pollinated crop production has quadrupled since 1961 while the number of managed bee colonies has halved, illustrating the growing risk of bee losses as the average colony is responsible for more pollination.
"In the US, there have already been situations in which bee colonies have been imported from Australia to cover a pollination shortage due to high mortality rates of domestic colonies," Rabobank says.
Canterbury-based honey exporter John Hartnell says North American bee keepers have had huge hive losses of 30-35 per cent a year, compared to a normal rate of about 5 per cent.
New Zealand bee-keepers have not seen colony collapse disorder, which Hartnell says comes hand in hand with the spread of the varroa bee mite.
"The varroa mite on its own is a nasty beast but it doesn't cause colony hive collapse disorder on its own account," he says.
"But when we match that with [parasite] Nosema ceranae, perhaps the Israeli paralysis virus and a couple of other goodies that go into the mix at that point the hives struggle with their immune system."
New Zealand is free of the Israeli acute paralysis virus but we do have the varroa mite and in September Nosema ceranae was discovered here.
"Nosema ceranae is something that we didn't want at all, that was a bloody horrific find," Hartnell says.
Nosema ceranae has since been found in both the North and South Island.
"The bees can't get out of the hives to go to the toilet basically ... it just creates a breeding ground for this parasite."
Meanwhile, the varroa mite continues its march south having passed Queenstown and now heading towards Bluff.
It took six years for the varroa mite to get from Auckland to Nelson and another five to get to Southland.
"The chance to stop it was in Nelson but unfortunately the Government weren't prepared to support us in that," Hartnell says. "The whole of New Zealand bee-keeping was very disappointed."
Before 2000 there were about 300,000 managed honey bee hives and another 300,000 wild and feral hives, he says.
"The varroa mite basically came through and it's killed all that wild and feral population and we're now simply totally reliant on man's intervention to stop the varroa mite killing out the managed hives."
Beekeepers can make their primary income from either honey of pollination - the true value of which Hartnell puts at more than $10 billion a year.
Paddocks using timber posts and wire were a hostile environment for honey bees, although people had become more aware of their importance during the past three or four years.
The use of some insecticides has also been questioned internationally, with neonicotinoids which can be used to coat seeds being banned in France, he says.
"In Israel their bees are now grey because they've been fed so many drugs for so long to combat all these different things their whole genetic background's been mucked up."
Hartnell says New Zealand has native bees and the introduced bumble bee, which live alone or in small communities and are not susceptible to the varroa mite, although along with moths, flies and other insects they are responsible at best for 20 per cent of pollination.
"When you look at the varroa mite, New Zealand agriculture and horticulture will be paying for that for the rest of their lives."
Hartnell, who is also the Federated Farmers Bees chairman and spokesman for biosecurity, says more trade equals more risk.
"It's very important that we do have some very strict screening of imports into the country so we do protect our agricultural and horticultural base."
Australian honey imports are on hold because of concerns about potential contamination from European foulbrood found across the Tasman, he says.
"At this stage we're still in discussion over that particular issue."
National Beekeepers' Association vice-president Barry Foster, who has a factory and about 900 hives based in Gisborne, says the industry here is reasonably buoyant and commanding good prices.
"We are very good producers and we produce quality products, it's known internationally and we trade on that."
According to the Ministry of Agriculture and Forestry the export value of honey, beeswax and live bees in 2009 was estimated at $97.5 million.
"If we couldn't get a crop of honey as a result of having European foulbrood, which is quite possible ... we would have to charge a lot more for the hive to go into kiwifruit to pay all the bills and make a little profit out of it." Foster says.
The cause of colony collapse disorder is probably a mix of environmental, stress, chemicals and pathogens, he says.
A continual decrease in bee forage is another issue, with about eight different types of pollen needed each year for a balanced diet.
Farmers, councils and the public need to be encouraged to plant more bee-friendly trees and plants, he says.
"When you go home tonight have a look on your plate and just count up the things that require insect pollination there."
The association for the past two years has been running a bee week, which has included visiting schools and this year will be held in May.
"Just to highlight different aspects about the honey bee and it's importance in the economy, giving people more knowledge about it," Foster says.
"Things like every apple you'll ever eat, every pear, peach, plum, water melon, carrot, seed, all those things they wouldn't be there without honey bees and people like myself who look after them because they can't survive by themselves now."
Honey bees
70,000 bees in a large colony during summer.
2000 eggs a day laid by the colony's sole queen.
32 km/h top speed, 6.4 km radius from hive.
100 million-year-old bee found preserved in amber.
Pollination
One bee colony can pollinate up to 300 million flowers a day.
One-third of food production depends on animal pollination.
80-90pc of animal pollination is done by the domesticated honey bee.
375,000 hives in New Zealand, wild colonies can no longer survive.
Colony collapse disorder
First observed in 2006 in North America.
30-35pc average US colony losses in recent years.
20pc plus losses in most Europe countries.
Losses in New Zealand are a normal 5pc
What causes it
Exact cause is unknown but likely to be a combination of issues.
Inbreeding of queens has led to a shrinking gene pool and affected resilience.
Decline in biodiversity, leading to malnutrition of bees.
Some countries have banned certain pesticides.
Attack by parasites and pathogens like the varroa bee mite.
[Sources include: Rabobank, BBC News, British Beekeepers' Association]
What kind of plants do bees like?
The following information has been provided by the National Beekeepers' Association of NZ.
-Nectar is the raw ingredient of honey. It is produced by flowers to lure pollinators to flowers for pollination and eventual fertilisation. Pollination, especially for many food crops is essential for successful cropping
-What is nectar? It is a solution of sugars in water with amino acids, minerals, essential oils and organic acids. The solution of sugars is usually made up of sucrose, glucose, fructose and sometimes maltose
-Some plants reliably produce abundant nectar despite environmental conditions e.g. citrus, whilst other species may not produce much at all
-Once flowers have been pollinated they produce less nectar. Cucumber flowers are a good example as they only produce nectar on their first day of opening
-Environmental conditions that affect nectar production are: air temperature, soil moisture, soil fertility, sunlight levels, plant processes such as photosynthesis, respiration, growth and flower age.
-Honey bees seem to prefer nectar with equal quantities of glucose, fructose and sucrose
-Avoid planting species that have double flowers i.e. masses of petals. Select single-flowered spp. and cultivars as these are easier for the bees to visit
For nectar production there are six families of plants that are outstanding:
Rosaceae - all stone and pip fruits, blackberry, hawthorn
Fabaceae - clovers, gorse, false acacia, mimosa
Lamiaceae - rosemary, lavender, sage and other salvias, thyme, mint, bee balm, basil, catmint
Scrophulariaceae - koromiko, penstemons, veronicas,
Brassicaceae - brassicas
Asteraceae - dandelion, sunflower, dahlias, heleniums, cosmos, echinacea, zinnia
Other important plant families as sources nectar :
Myrtaceae - eucalypts, pohutukawa, rata, bottlebrush, manuka
Rutaceae - citrus
Ericaceae - heather
List of nectar rich plants suitable for Auckland gardens
Banksia spp.
Barberry (Berberis spp.)
Bee balm (Monarda didyma, M. citriodora)
Bottlebrush (Callistemon spp.)
Borage (Borago officinalis)
Brassicas (Brassica spp.)
Buddleia (Buddleja salviifolia)
Buttercup (Ranunculus repens)
Cabbage tree (Cordyline australis)
Californian lilac (Ceanothus spp., cvs)
Catmint (Nepeta spp.)
Coneflower (Echinacea purpurea)
Clover (Trifolium repens)
Cucumber, melon, zucchini (Cucurbita spp.)
Dahlia (Dahlia imperialis) & varieties
Echium spp.
Gum tree (Eucalyptus spp.)
Harakeke / NZ flax (Phormium tenax)
Hawthorn (Crataegus oxycantha)
Heather (Erica spp.)
Ice plant (Sedum spectabile)
Kanuka (Kunzea ericoides)
Karo (Pittosporum crassifolium)
Kohuhu (Pittosporum tenuifolium)
Koromiko (Hebe macrocarpa ) & varieties
Kumarahou (Pomaderris kumeraho)
Lavender (Lavandula spp) & varieties
Lemon, grapefruit, orange (Citrus spp.)
Manuka (Leptospermum scoparium)
Manatu (Plagianthus betulinus)
Mexican aster (Cosmos spp) & varieties
Mimosa (Acacia baileyana)
Northern rata (Metrosideros robusta)
NZ lacebark (Hoheria populnea)
NZ jasmine (Parsonsia heterophylla)
Persimmon (Diospyros kaki)
Penstemon (Penstemon spp.) & varieties
Phacelia tanacetifolia
Poached egg plant (Limnanthes douglasii)
Pohutukawa (Metrosideros excelsa)
Poroporo (Solanum aviculare)
Rewarewa (Knightia excelsa)
Rosemary (Rosmarinus officinalis)
Sage (Salvia apiana, S. fallax, S. officinalis) and other spp.
Sneezeweed (Helenium autumnale)
Sunflower (Helianthus annuus)
Symphytum grandiflorum
Thyme (Thymus vulgaris)
Tree lucerne (Chamaecytisus palmensis)
Tulip tree (Liriodendron tulipifera)
Wharangi (Melicope ternata)
Zinnia (Zinnia spp.) & varieties