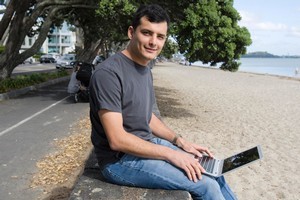 Mobile marketing company The Hyperfactory has axed all but a handful of its New Zealand positions as it moves its head office from Auckland to New York.
Kiwi entrepreneur and company founder Derek Handley said the decision to revise the structure of the New Zealand business was made because he wanted the company to be near its main export market. Staff were told about the changes to the business last month.
Of the "23 or 24" staff in the Auckland office, 16 positions were affected and all bar two of those people were offered similar roles in the company's New York office, Handley said.
The Hyperfactory, which designs and hosts internet-based advertising and branding campaigns for companies with a focus on delivering ads to mobile phones, also has offices in India, Hong Kong and Sydney.
Handley said three New Zealand staff had taken up the offer to move to the States, which included a full relocation package, six had decided against it and the company was in discussions with a further five.
Those in affected positions who elected not to move would be made redundant, he said.
The company was increasingly moving away from product development and management towards client service with the goal of being the best mobile marketing company in the world, he said.
The 2009 Ernst & Young Young Entrepreneur of the Year was keen to point out that the New Zealand office would remain open with six staff, and the company remained committed to its clients here.
The Hyperfactory was founded by Handley and his brother Geoffrey 10 years ago, and was bought out by United States media giant Meredith Corp for a rumoured US$20 million last year.
At the time Handley said he intended to stay on with Meredith to push plans to triple the size of the business over the next three years. Handley said yesterday he remained committed to that goal.
Meredith owns 23 subscription magazines, including Better Homes and Gardens, Parents, Ladies' Home Journal, Family Circle and American Baby.
It also owns 12 television stations and has 32 websites and strategic alliances with leading internet destinations.
Suggestions that the company could be seen as bailing out of the country that injected so much capital into the business in the form of government grants were rejected by Handley, who said the number of jobs created here far outweighed the value of the grants.