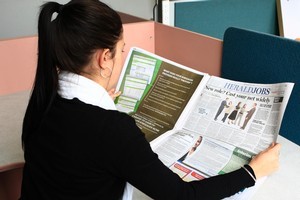 Last year ended with 158,000 people officially unemployed, only 5000 fewer than the peak a year earlier.
The unemployment rate sawtoothed up to 6.8 per cent in the December quarter from 6.4 per cent in September, according to Statistics New Zealand's household labour force survey.
It represents an additional 8000 people unemployed.
There was also an increase of 17,000 in those classified as not in the labour force - those of working age who do not have a job and are not actively seeking one either, which is a requirement of being statistically classified as unemployed.
In Canterbury the unemployment rate jumped from 4.8 per cent to 6 per cent in the quarter following its earthquake.
The number of people employed fell by 11,000 or 0.5 per cent in the quarter, reversing the previous quarter's outsized gain. The decline was all in part-time workers; full-time employment rose 0.3 per cent.
Over 2010 employment rose 1.3 per cent, representing 27,000 people, but it barely outstripped a rise of 23,000 in the workforce during the year.
The unemployment rate has swung around wildly over the past year from a peak of 7 per cent in December 2009, dropping to 6 per cent in March, jumping back up to 6.9 per cent in June before dropping to 6.4 per cent in September and now rebounding to 6.8 per cent.
Such volatility makes it hard for the Reserve Bank to judge how much spare capacity there is in the economy and the pace at which it is being taken up.
"We have had our methodologists look at it and we can't find anything that looks like an error," a Statistics NZ spokesman said. "We are confident in our numbers."
The kiwi dollar fell half a cent against the US dollar on the news and wholesale interest rates fell too.
Bank of New Zealand economists pushed out their expectation of when the Reserve Bank will next raise the official cash rate from June to September.
BNZ economist Craig Ebert said that while recent data had been disappointing, forward-looking indicators like business and consumer sentiment had either picked up or maintained a robustness.
"It would be different if employment intentions were faltering or recruitment agencies were reporting a collapse. "
ASB economist Jane Turner said it was likely the December numbers overstated the weakness of the labour market.
"Nonetheless, taking a look at the average rate of employment growth over the past two quarters [0.25 per cent], it is clear that momentum in the recovery has waned over the second half of 2010."
Likewise hours worked, which rose by 1.2 per cent in both the March and June quarters, rose 0.3 per cent in September and 0.2 per cent in December.
"It is clear the economic recovery has been very patchy and struggled to keep traction over the second half of 2010. Nonetheless, there are clear signs that underlying labour demand is lifting, and is likely to flow through to increased employment over 2011 as business confidence recovers," Turner said.
Goldman Sachs economist Philip Borkin agrees: "Stepping back and looking at the full suite of labour market statistics - wage growth, employment, hiring intentions, difficulty in finding labour and so on - we continue to believe that the labour market has stabilised. However, what this survey suggests is that the improvement since that stabilisation has been relatively limited."
ON THE RISE
* 6.8pc unemployment rate for December quarter
* 6.4pc unemployment rate for September quarter