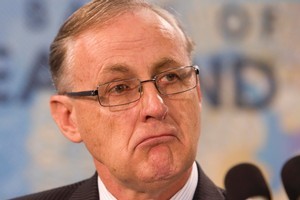 There was a marginally more cheerful tone to Reserve Bank Governor Alan Bollard's comments on the economic outlook yesterday.
As expected he left the official cash rate (OCR) unchanged at 3 per cent and the load-bearing paragraph of his statement was cut and pasted from the last review six weeks ago: "While interest rates are likely to increase modestly over the next two years, for now it seems prudent to keep the OCR low until the recovery becomes more robust and underlying inflationary pressures show more obvious signs of increasing."
Bollard acknowledged a weaker starting point, the economy having unexpectedly contracted in the September quarter, but that is offset by the fact that "forward indicators of activity have firmed somewhat".
In December he noted that corporate investment intentions were below average. This time he pointed to a pick-up in business confidence and in imports of capital equipment.
On the international front the statement noted the continued expansion of trading partners' economic activity and gains in commodity prices, but dropped December's reference to the downside risks to global growth and export prices. December's warning that house prices might decline further has been replaced by the observation that there are some tentative signs that activity in the housing market has stabilised.
ASB economist Jane Turner said that although the market had stabilised, it remained fragile and unlikely to be able to withstand interest rate increases for some time.
Bollard said that while the GST increase had caused headline inflation to spike higher, underlying inflation remained comfortably within the Reserve Bank's target band of 1 to 3 per cent.
But ANZ chief economist Cameron Bagrie said that inflation would start to emerge as an issue, given rising food and energy-related prices.
Markets economists are divided as to whether the next increase in the OCR will occur in June or September.
"We suspect that today's statement was aimed at keeping market expectations unchanged, by balancing out the developments since the December statement," Westpac economist Michael Gordon said.
"While financial markets took a slightly positive spin on it - the NZ dollar rose about half a cent to US77.1c and wholesale interest rates rose 3 to 5 basis points - that's not a large enough reaction to worry the Reserve Bank."