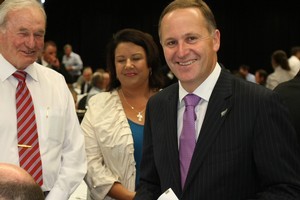 Prime Minister John Key has announced plans to sell off parts of state assets and cut back on the rate of Government spending.
Mr Key delivered his state-of-the nation address at Henderson's Trust Stadium this morning to a group of about 380 people, mostly from the business community.
Click here for the full text of Mr Key's speech.
He said National was looking to sell off parts of major power companies Mighty River Power, Meridian Energy and Genesis Energy along with coal company Solid Energy using the mixed-ownership model under which Air New Zealand operated.
"In each case, the government would retain majority ownership and control, and the freed-up capital would be used to purchase other public assets, thereby reducing the government's need to borrow," Mr Key said.
"I am convinced that Air New Zealand would not be run as well nor provide as good a service to customers if it was owned 100 per cent by the Government."
National had also asked Treasury to look into reducing Government shareholding in the national carrier, Mr Key said.
"No other SOEs are being considered and no decisions have been made," Mr Key said.
"Our final policy will be decided prior to this year's election and we will seeking a mandate from the electorate before proceeding with any change," he said.
Any sell-off would be subject to conditions including Government retaining a 50 per cent stake in the company, New Zealand investors claiming a place at the "front of the queue" when it comes to shareholding and any freed capital going back into public assets, said Mr Key.
New Zealand State Owned Entities (SOEs) not caught up in today's proposal include Metservice, New Zealand Post, Kiwirail and Ontrack, Landcorp and Crown Fibre Holdings.
SOEs are directed to operate successfully as a business and earn profit on par with private commercial companies.
Many former SOEs were privatised by Labour and National through the 1980s and 1990s, including Telecom and State Insurance.
Opportunities for 'mum and dad' investors
Speaking to media after his speech, Mr Key said he was confident there would be significant interest in buying shares in currently state owned companies, by New Zealand "mums and dads" as well as institutions with investment portfolios such as the Super Fund and ACC.
"There is a lot of New Zealand investment that's looking for a home. I don't think the issue is about whether we can find New Zealand-based capital."
He said foreign investors would be able to buy in, but he had sought Treasury advice to make sure the first opportunity to buy in was directed at New Zealanders.
There were various ways of ensuring New Zealanders did get the best opportunity to buy, including a discount for "mum and dad" investors. Another possibility was collecting interest in the shares, which he expected would be oversubscribed, allowing greater flexibility to decide who bought the shares.
New Zealand was "severely at risk" that foreign lenders would stop lending to New Zealand or charge higher interest rates.
"We can't underestimate what Standard and Poors are saying. They are saying they would downgrade New Zealand, putting up the price of interest rates, unless we get on top of debt."
He said if New Zealand was borrowing less, it meant there was more to invest in other areas.
'Hocking off the family silver'
The announcement of planned asset sales was met with condemnation by Labour SOEs spokesman Clayton Cosgrove.
He accused National of planning to "hock off the family silver to foreign pixies".
"They've done it before. It didn't work then though we were promised we would be better off. And it won't work now. It's a dumb idea."
"These enterprises have a combined value of $11.75 billion, and earn Kiwis $700 million a year.
"If John Key's economic plan consists of hocking off the family silver to the foreign pixies from whom he's also borrowing $120 million a week to give tax cuts to the rich, then he's living in a fantasy land."
Labour Party Finance spokesman David Cunliffe said the mixed ownership model favoured by National would relinquish Government control of state assets while giving little in return.
Minority shareholder rights would dilute public influence in running the companies, while compliance costs of public listing would still be incurred, he said.
"Arguably 'mixed ownership' is the worst of both worlds, and certainly not the best."
Putting the proposal to sell off parts of SOEs in a speech themed around saving and investing was misleading, said Mr Cunliffe.
"Dressing it up as a savings plan is at best a bad joke. Since when did flogging off assets amount to saving and investing?
"John Key says he is singing the saving song today, but the substance is the same old agenda of irresponsible tax cuts for the wealthy and flogging the family silver to pay for them."
Cuts in Government spending
Mr Key said the asset sales would come alongside an up-to-$300 million cut in new spending assigned to this year's budget - from $1.1 billion to $800 to $900m.
Mr Key said both moves were necessary to boost New Zealand's economic performance and deliver jobs, higher incomes and better living standards.
"The way for New Zealand to get ahead is to sell more to the rest of the world. That means making some changes."
Mr Key said the reduced spending would allow New Zealand to record a meaningful surplus one year earlier than projected, in the 2014-2015 financial year.
"The government simply has to get its finances in order if New Zealand is to achieve a long term improvement in its economic prospects.
"I have therefore challenged my Ministers to balance the books more quickly.
"Government spending will continue to increase each year in dollar terms but at a slower pace than the rest of the economy."
$300m a week borrowing
Mr Key said the Government was still having to borrow an average of $300 million a week "to pay the bills".
That has raised the national debt level to 85 percent of GDP, putting New Zealand on par with Ireland, Portugal, Greece and Spain, he said.
"That is very uneasy company indeed.
"We recognise that New Zealand's level of foreign debt is our biggest vulnerability," he said.
"In the worst of the recession, running a budget deficit was the right thing to do, as it gave much-needed support to the economy.
"Now, as the economy recovers, borrowing $300 million a week is unaffordable and is holding the economy back.
If debt remained at those levels, Standard and Poor's would downgrade New Zealand's credit rating, Mr Key said.
"This year the theme of the Budget will be savings and investment."
Electricity prices won't rise, says Key
Mr Key said he did not believe New Zealanders would face higher electricity prices as a result of private shareholders demanding greater profits from electricity companies.
He said the government had reformed the electricity industry and put controls on, including reducing cost increases of electricity generation.
He believed the companies would be more successful with some private capital. The government was "cash strapped" and could not invest in them to the same extent, restricting their growth.
He said while his critics would claim he was selling off the family silver, he believed the most important thing for New Zealanders was making sure the country didn't go broke.
"I think the public will respect us for taking the tough decisions, but the right decisions for New Zealand. We're really saying to New Zealanders, look, sometimes mum and dad change the mix of their assets. The car might be too big and they get a smaller thing. We're looking to do a similar thing, but overall growing the size of New Zealand's balance sheet."
Labour's promises were too extravagant and would mean they had to borrow, taking New Zealand down the same road as Ireland and Spain.
- with NZHERALD STAFF