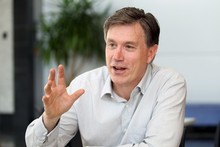 People wanting to get on the property ladder should consider jumping in this year to help protect themselves against the threat of rising inflation, Tower's investment head Sam Stubbs says.
Speaking at Tower's first quarterly investment briefing yesterday Stubbs said more debt, higher inflation, warring currencies and an increase in merger and acquisition activity would be key themes for investors this year.
"There will be ever more borrowing. The developed world will have to keep printing money. They have created fiscal packages that have to be filled."
But competition for borrowing would increase which was also likely to see interest rates rise.
"The problem is, more debt doesn't solve a debt crisis."
Stubbs said there were three main ways countries could dig themselves out of debt; by growing out of it, restructuring or inflation.
"We think there will be a combination of restructuring and inflation."
Stubbs said the demand for debt would not be good for fixed interest markets although any investments that were inflation linked would be beneficial for investors.
He said inflation was already beginning to rise around the world and this was being priced into the market. Now that economies were starting to grow again Stubbs said Tower had started to think about investing in assets classes that provided a protection against inflation such as shares, property and commodities.
"So what does it mean for ordinary Kiwis?
"We think that owning or buying a house is a good idea. Most people buy a house by taking out a mortgage. Having a mortgage on a house with inflation around the corner is not a bad thing."
Stubbs said it was also a good time for people to consider moving out of a default KiwiSaver scheme where the investments were typically in fixed interest and cash.
"If you are in a default scheme you have had a great run. But the asset classes in the default schemes are likely to underperform this year."
By Tamsyn Parker

Email

Tamsyn