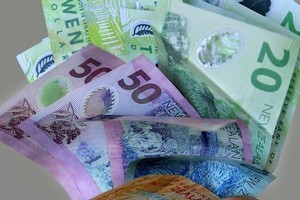 New Zealand likely avoided a recession last year through a recovery in business confidence led by exports, consumer spending and construction, economists say.
A net 8 per cent of companies surveyed expect the economy will improve over the next six months, up from 6 per cent in the third quarter, the Institute of Economic Research said yesterday.
Home-building approvals rose 8.8 per cent to a four-month high of 1268 in November, Statistics New Zealand said in a separate report.
Rising confidence and construction add to signs the economy expanded in the final three months of the year, averting a recession after gross domestic product unexpectedly shrank 0.2 per cent in the third quarter, partly because of damage from a September earthquake. Reserve Bank Governor Alan Bollard may delay raising interest rates until the third quarter as he gathers more signs the nation's recovery is sustainable.
"The improved activity measure should help to ease fears that the economy fell back into recession," said Philip Borkin, economist in Auckland at Goldman Sachs & Partners New Zealand.
"There appears to be little evidence of inflation getting worrisome. We believe the Reserve Bank can hold off resuming its tightening cycle until September."
Eight of 12 economists forecast Bollard will keep the official cash rate at 3 per cent until at least April, according to a Bloomberg survey on December 10. None expect an increase at his review on January 27.
A net 4 per cent of 814 companies surveyed last month said trading improved in the three months ended December 31, the privately owned institute said. The net figure, which isn't adjusted for seasonal patterns, is calculated by subtracting the proportion of pessimists from optimists.
A net 16 per cent expected a drop in sales in the previous survey. The improvement is consistent with the economy expanding about 0.6 per cent in the fourth quarter, Shamubeel Eaqub, principal economist at the institute, said.
"The fourth quarter seems to have rebounded but is still consistent with sub-trend growth," he said. "At least we are not going backwards."
New Zealand's Earthquake Commission has paid out $605 million in claims made after the Canterbury earthquake on September 4.
The State-owned insurer estimates total costs may be as much as $3.5 billion and rebuilding could take three years.
Trading fell sharply in Canterbury in the fourth quarter, while the rest of the country improved, yesterday's report showed.
Still, employment in the construction industry surged in the region in anticipation of rebuilding, the institute said. The outlook for exports has been buoyed by record-high prices for commodities such as milk powder and lumber amid demand from China, the nation's second-largest market. Exports rose 7.5 per cent in the year ended November 30 from the year-earlier period, Statistics New Zealand said yesterday.
Last month, Fonterra raised its forecast payment to milk suppliers by 4.5 per cent, citing higher international prices.
Expectations for first-quarter sales are improving, according to the institute's survey. More firms expect trading will increase in the next three months and a net 5 per cent expect profits will fall.
"While the growth implications of the rebound in business sentiment are better, they are hardly signalling boom times ahead," said Robin Clements, chief New Zealand economist at UBS AG in Christchurch.
- BLOOMBERG