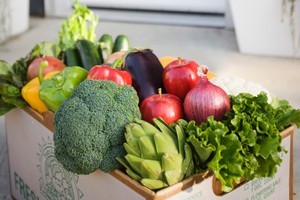 Eastern Australia's sopping wet summer has set the scene for an "explosion" of imported New Zealand produce, according to growers on that side of the Tasman.
Great swathes of Queensland are under water, and New South Wales and Victoria experienced a wet November-December.
"Cheaper New Zealand labour costs and a low exchange rate already give increasing volumes of fruit and vegetables a price advantage in Australian supermarkets, but the big wet is expected to lure in even more New Zealand produce to take advantage of local supply shortfalls," an Australian rural news website, Farmonline, reported.
"There's no doubt Queensland's floods and the pre-Christmas wet weather in NSW and Victoria will be a beachhead opportunity for New Zealand marketers to establish an even stronger footing here," Avocados Australia chief executive officer Antony Allen said.
Australian Food and Grocery Council chief executive Kate Carnell said New Zealand had worked solidly to establish its reputation as a safe, fresh food garden for the Asia-Pacific.
"I'd be amazed if they are not ramping up export plans to make sure they can help out where crop failures are causing interruptions to our supplies," Ms Carnell said.
She suggested that - despite inevitable rises in fresh food costs and shortages - Australian consumers should try to buy domestic fruit and vegetables to support farmers who had experienced "a pretty rotten time" with both drought and flood in recent years.
"It's in our long-term best interests to buy Australian-grown if possible," she said.
Weather-damaged crops most at risk from increased competition included kiwifruit, cherries, tomatoes and kumara, the website reported.
But it noted the competition extended to frozen, canned or dried vegetable lines: Australian imports of frozen and processed produce had increased by 80pc in the past seven years and New Zealand had become a major supplier to supermarkets.
- NZPA