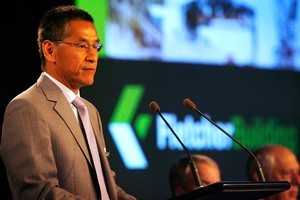 New Zealand's biggest construction company Fletcher Building is set to purchase a stake in Australia's Crane Group as it pitches for a full takeover of the company.

Fletcher Building has acquired a 14.9 per cent pre-bid stake in Crane, a statement from the company says. Its takeover is offering shareholders in the ASX-listed Crane a 28 per cent premium.
Shares of Fletcher fell 1.6 per cent to $7.73 when they resumed trading after being halted for the announcement. The transaction would be funded by the issue of 67.3 million new shares and bank debt of A$340 million from an existing facility.
Crane last traded at A$7.67 on the ASX and has declined about 19 per cent this year. Profit before one-time items fell 35 per cent to A$36.8 million in 2010, as sales dropped 12 per cent.
Crane shareholders are being offered one Fletcher Building share and A$3.43 in cash for each share and the deal is conditional on the acquisition of 90 per cent of Crane shares.
"Based on an implied Offer price of A$9.35 the Fletcher Building Group will acquire 100 per cent of the ordinary share capital of Crane for A$740 million."
The offer is being made by Fletcher Building (Australia) Pty Limited, a wholly owned subsidiary of Fletcher Building.
Fletcher chief executive Jonathan Ling said the offer represented an opportunity for shareholders to both receive cash and to become a shareholder in an even larger and more diversified Australasian building materials manufacturing and distribution company.
Fletcher intends to operate Crane as a separate division.
Australia currently accounts for 31 per cent of Fletcher's revenue compared to 50 per cent from New Zealand. The acquisition will lift the company's per-share earnings, based on pro forma 2010 figures, it said.

- NZ HERALD ONLINE/BUSINESSDESK