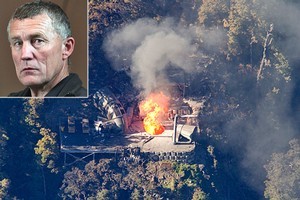 Calls for an opencast coal mine at Pike River are emerging amid efforts to find work for 114 people made redundant today.
Grey District Mayor Tony Kokshoorn says making Pike River opencast is a way to keep many of the skilled mine workers on the West Coast.
It will mean getting permission for mining on 100ha of Department of Conservation land in the Paparoa Ranges, he says.
"That coal seam needs to be opencasted. This is a solution we have to look at.
"It's absolutely imperative that we keep the pool of workers we've assembled here in the last few years. We want to keep them on the West Coast.
"But we have to move quick to do that."
The coal seam at Pike River is believed to be between 110m and 700m deep.
A Department of Conservation spokesman says any proposal to make Pike River an opencast mine would be considered.
But the proposal would have to be economically and environmentally sound, he says.
"DOC has never received any application for an opencast operation at Pike River and it is over to mining operators to assess whether such an operation would be economic.
"The existing access agreement is for an underground mine and any application for an opencast mine would be considered on its merits in the normal way."
Pike River Coal chairman John Dow says the idea of making the Pike River mine opencast was rejected because it was economically unsound.
"All I would say is, think about why we spent all that money digging a tunnel.
"I'm pretty convinced it was an economic issue."
He would be looking to help with finding jobs for the workers made redundant today.
"I will be volunteering my services at any opportunity to help."
Solid Energy spokeswoman Vicki Blyth says her company, which runs the 200-employee Spring Creek coal mine on the West Coast, is interested in applications from the men who lost their jobs today.
It has recently advertised vacancies at its mine sites and is always looking for experienced mines workers, she says.
But the company did not have any formal plan in place for recruiting the redundant Pike River workers.
"We have an ongoing interest in recruiting experienced underground mines workers.
"As always it depends on the applicants. We don't have vacancies for 120 people We could take on some people but not all."
Solid Energy has plans for another mine in the same area as Pike River, but it is likely take years to develop, she says.
"The timeline is not going to meet the need."
Receivers announced they are making 114 Pike River Coal employees redundant immediately earlier today.
PricewaterhouseCoopers receiver John Fisk said the workers were eligible to be paid up to the $18,700 statutory maximum for wages, holiday pay and other entitlements.
There was still some doubt over the payment of bonuses.
- additional reporting Grant Bradley